Test cricket is considered to be the true test of any batsman's skills, patience, and technique. It is well known that the current generation of T20 fans believe that Test matches are too slow.
Here's list of 5 fastest Test centuries (as per balls taken) that made that Test matches as exciting as T20s, if not more!
5 Fastest Centuries In Test Cricket
1. Brendon McCullum
Brendon McCullum was playing his last Test match against Australia in 2016 at Christchurch, New Zealand. It was the final Test match of the series, and Australia won the toss and put New Zealand in to bat on a surface that was predicted to assist the bowlers.
New Zealand got off to a rocky start and were 3 wickets down for 32 runs by the 19th over. In came the New Zealand skipper, Brendon McCullum and he changed the course of the match.
Instead of biding his time and trying to play himself in, McCullum set up a fine counter-attack. As soon as he took guard, he played the match true to the aggressive nature that he was known for.
McCullum cruised to his century in 54 balls and scored 21 fours and 6 sixes as he tore through the Australian ranks of Josh Hazlewood, James Pattinson and Nathan Lyon. His innings were true to his aggressive nature, talk about going out with a bang!
2. Viv Richards
Viv Richards is regarded as one of the greatest batsmen of all time. In his illustrious career, he scored a total of 8,540 runs in 121 Tests with an average of 50.23 and 24 centuries. He was known for his aggressive and fearless style of batting.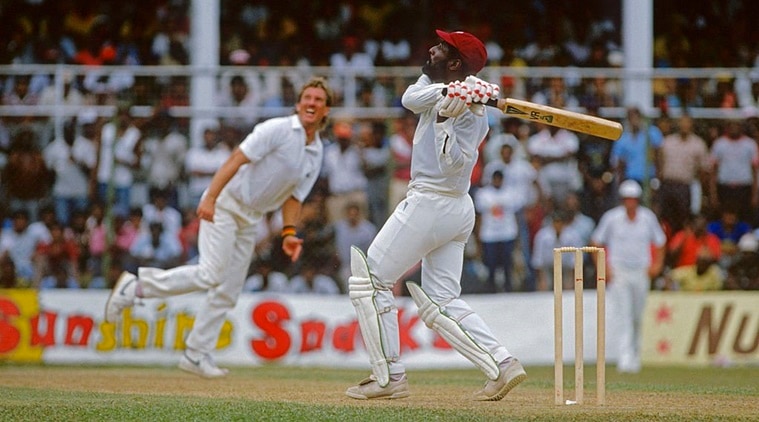 In the fifth Test match against England in Antigua during the 1986 tour, Richards scored the fastest century of that time. West Indies had won all the four Tests till now and Viv Richards decided to entertain and shock the whole world as he came out to bat in the second innings.
Richards pummelled the English side as he scored a century in 58 balls with 7 powerful sixes and 7 fours. Let's put somethings in perspective to see how amazing this feat was at that time.
Till 1990s, batting was a lot more about saving the wicket than scoring faster. So even a strike rate of 100 in ODIs was a big deal and tests were about survival. As a batsman, you were supposed to go in and survive and the runs would follow.
In those times, Viv Richards smashed a glamorous century at a strike rate of around 190 in a Test match, it took the world by shock. He held the record till 2014 when Misbah-Ul-Haq matched this feat and later in 2016, Brendon McCullum scored a century in 54 balls making a new record after 30 long years.
3. Misbah-Ul-Haq
During the 2nd Test of Australia's tour of Pakistan in November of 2014 at Dubai, Pakistan were on a verge of a 2-0 series win. Most of the time, Misbah is quite content with taking his time on the crease and play himself in slowly. That also got him the nickname "Tuk-Tuk" in 2014.
In the second innings of that Test, Misbah's intention was to prove the nickname wrong. Pakistan scored a mammoth total in the first innings and were about 461 runs ahead when Misbah came in to bat.
He had nothing to worry about and could bat freely, and boy did he. He scored a quick-fire century off just 56 balls with 5 sixes and 11 boundaries. The innings sealed the victory for Pakistan and changed his nickname forever!
4. Adam Gilchrist
The Australian opener was an attacking left-handed batsman. The aggressive cricketer is said to have redefined the Australian cricket team with his batting style and is widely regarded as the greatest wicket keeper of all time.
Going into the third match, Australia was leading the 2016 series 2-0. Batting first, Australians were 3 wickets down for 69 runs. England managed to bowl Australia out for just 244 and sensed a possible comeback in the series.
Although, the experienced Aussie bowling attack managed to end England's innings at a total of 215. At 365 for 5, Gilchrist walked into bat after a first innings duck. He scored a fifty in 40 balls and then unleashed on the English bowlers scoring the next fifty in just 17 more deliveries.
The exciting innings was full of attacking pulls and punches as Gilly saw a declaration coming. The century shut England out of the contest as Australians won the third Test match as well and regained the Ashes.
5. Jack Gregory
This was during the second Test of the Australian tour of South Africa in 1921. Australia won the toss and chose to bat first. Jack Gregory came in to bat when Australia were 128 for 2.
Gregory was bold, aggressive and attacking from the beginning trying to put pressure on the hosts. The innings were filled with aggression supported by a little bit of luck as the Australian batsman was dropped thrice during the innings.
Jack Gregory scored his century in 67 balls which was the record at that time and stayed a record for the next 6 decades till Viv Richards managed a century in 56 balls. The interesting fact is that Jack Gregory scored the century in 70 minutes.
The century is still the fastest century in terms of minutes taken to score. Its ironical that it has been the quickest century record in terms of minutes for a century now. The second quickest century in terms of minutes was scored by Misbah-Ul-Haq in 74 minutes.
Follow us on facebook for more sports & news