The first triple century was scored by Andy Sandham of England against West Indies in 1930. Since then 30 players have managed to score triple centuries in Test cricket. 8 of these 30 triple centuries have come in the period since 2010.
In this Article, we will look at 8 Triple centuries scored in the last decade.
All Triple centuries scored in the last decade
1. Chris Gayle
In this match against Sri Lanka in November 2010, Chris Gayle broke the back of Sri Lankan bowling attack with a rockstar triple century. In his innings of ceaseless slogging and powerful hitting, Gayle scored a total of 333 runs with 34 fours and 9 sixes. Although, luck was on Gayle's side as he scored his 2nd triple century.
He had completely demoralised his opposition when he was caught at short cover. Sure enough, umpire Kettleborough decided to check Dammika Prasad's front foot.
The big screen showed that Prasad had overstepped and Gayle was called back as he resumed his slaughter of Sri Lankan bowlers. Sri Lanka was asked to follow on, but the West Indians failed to bowl them out again as the match ended in a draw.
2. Michael Clarke
It was India's 2nd Test touring Australia at Sydney Cricket Ground on 5th January 2012, when Michael Clarke erected a historical monument as he carved out a sublime triple century displaying admirable resolve.
He scored an undefeated 329 with 39 fours and a six as a resounding statement to his doubters. Sydney was witnessing its highest individual Test score, and as his innings grew, he kept surpassing milestones. Australia managed to bag this match by an innings and 68 runs.
3. Hashim Amla
On 4th day of 1st Test between South Africa and England on 22nd July 2012, Hashim Amla scored his country's first triple century. During his overwhelming stand of 377 with Jacques Kallis, Amla scored 311 runs with 35 fours.
The innings were crafted with silky writs and artful footwork. He showed attitude, good technique and concentration in his triple century innings. South Africa went on to win the match by an innings and 12 runs.
4. Kumar Sangakkara
On 5th February 2014 in a match against Bangladesh, Kuman Sangakkara assembled a triumphant hulk-like score on his way to become only the third Sri Lankan Triple centurion.
He scored a gritty and determined 319 runs with 32 fours and 8 sixes in his monumental innings. The pitch was hardly a batsman's paradise, but Sangakkara resisted the bowlers and held the fort. The match ended in a draw.
5. Brendon McCullum
Brendon McCullum's triple ton came against India on 4th day of second test in February 2014. McCullum belongs to the school of cricket that believes a cricket ball should be treated like a fly and be continuously swatted for a boundary.
McCullum stayed true to his aggression and completed his triple century with 32 fours and 4 sixes. He became the first New Zealand batsman to score a triple century in Tests. It was the eight longest innings as McCullum lasted for 775 minutes.
McCullum wrecked Indian bowlers and helped gather a total of 680 runs, the highest by any team in the second innings of a Test. The match ended in a draw as New Zealand managed to wrap up the series 1-0.
6. Karun Nair
Karun Nair became only the second Indian batsman to score a triple ton. Playing against England in the 5th Test on 18th December 2016, Nair took apart England's bowlers by piece with an impressive unbeaten 303.
In his innings of 303, Nair also smashed 32 fours and 4 sixes around the ground. He was unforgiving against spinners as he ferociously cut and swept them during his attack. He helped India put up a total of 759 and helped India post a win by an innings and 75 runs.
7. Azhar Ali
It was on 14th October 2016, playing against West Indies in UAE where Azhar Ali marched to an unbeaten 302. It was the highest score by a Pakistani in Tests in UAE. In his innings of 302, Azhar Ali also hit 23 fours and 2 sixes.
In his innings of first triple ton in UAE, Azhar also anchored the innings to a total of 579 runs beating the previous highest total in UAE by 9 runs. Pakistan went on to win this match by a relatively small margin of 56 runs.
8. David Warner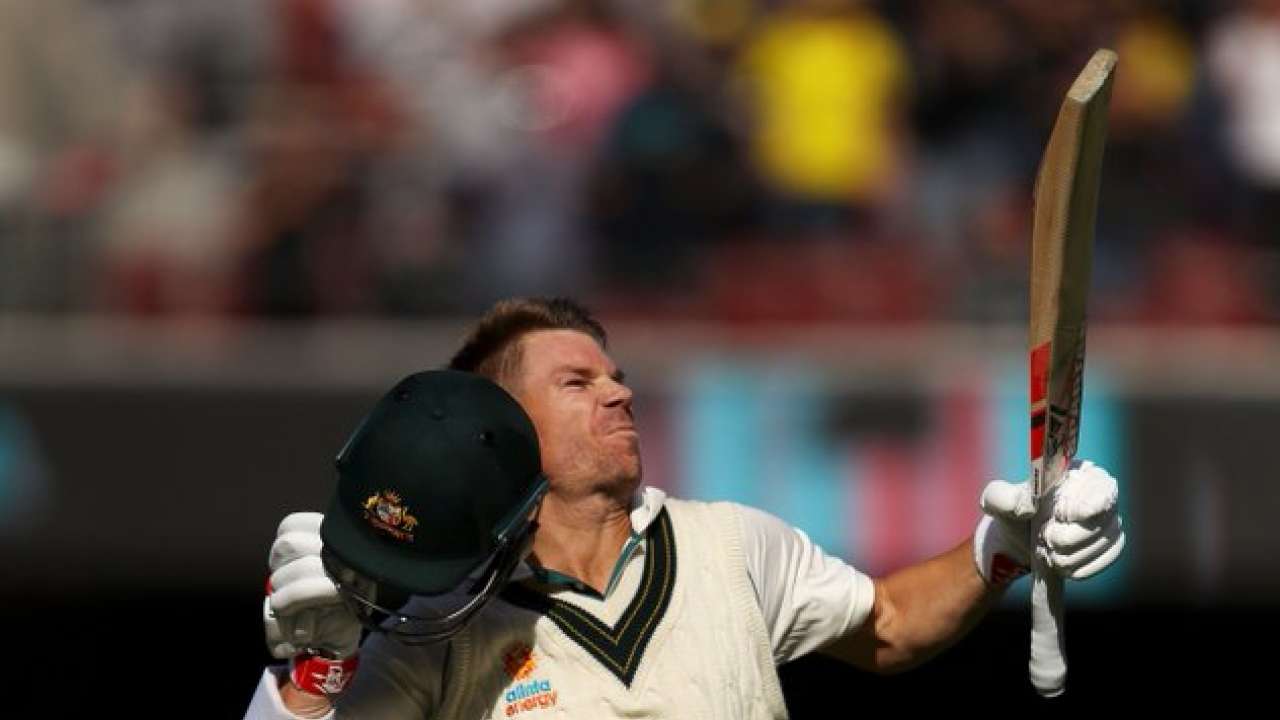 David Warner seized the day in a way that would've made Robin William proud during a match against Pakistan on 30th November 2019.
Going into second day, Australia had already humiliated Pakistan. Warner expressed his hunger for runs as he broke numerous batting records during this absolute massacre and left no skill set unexplored.
He became the first triple centurion in Adelaide Oval's history and surpassed Donald Bradman and Mark Taylor's 334 while at it. He piled on an unforgettable 335 runs with 39 fours and a six.
Warner guided Australia to a first innings total of 589 runs and Australia eventually won by an innings and 48 runs.