Spearheading the formidable strike force that India put out in the Under-19 World Cup in 2018, they had scared the living daylights out of batters in rival camps and made them go weak in the knees at the picturesque Mount Maunganui in New Zealand.
While most bowlers in opposition ranks, talented though they were, struggled to crank it somewhere up around the high 130s, wiry Rajasthan lad Kamlesh Nagakoti and his partner-in-crime, Noida speedster Shivam Mavi, were averaging well above 140kmph. The sheer difference in pace, and, need one say, skills told in the end as India romped to a title win without dropping a single game.
The win was largely credited to the fiery bursts from Nagarkoti and Mavi, often catching batters on the helmet or somewhere up around their chin. Just to illustrate the extent to which they instilled fear down rival batting line-ups, the batters, especially tailenders, could even be seen stepping away for dear life, exposing all three stumps as was seen during the heydays of Shoaib Akhtar and Brett Lee.
Three years to the day they bowled India to World Cup glory, the pace twins are set to pair up again and rework their old magic for Kolkata Knight Riders (KKR) this year. Putting their money where their mouth is, the Kolkata franchise, seeking to invest heavily in raw pace, got them lucrative contracts the year they got their names etched in the glory book.
However, the duo couldn't gang up for the franchise that year as the 20-year-old from Barmer, Rajasthan, who was bought by KKR for an eye-popping ₹3.2 crore, picked up an injury which put his IPL career in the doldrums for two years.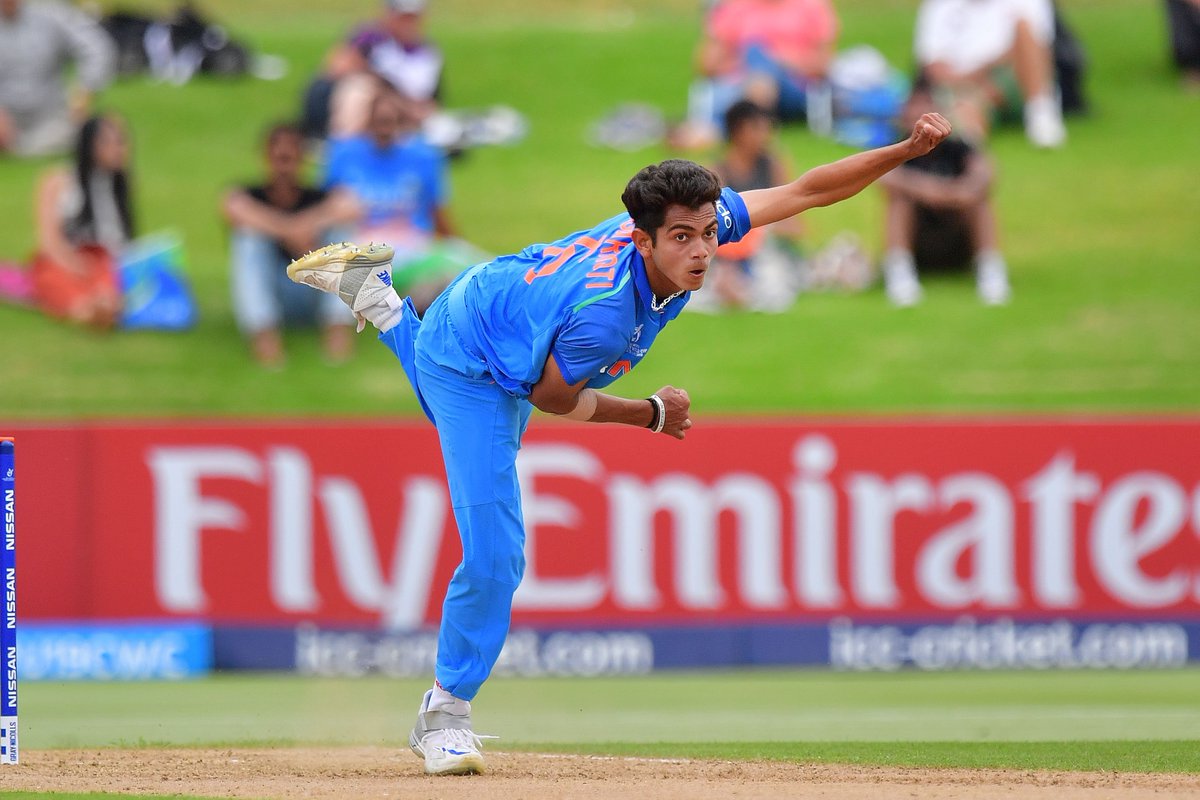 While his bowling mate, who was bought for ₹3 crore, made his IPL debut in 2018 itself and picked up 5 wickets, a stress fracture of the back put him in the sidelines since December 2019. However, the tearaways are now back to full fitness and simply can't wait to let it rip and hunt as a pair again this IPL. What's heartening is that despite the injury setbacks, they aren't willing to compromise on pace and are in shape to pit themselves against each other and rival speedsters on the speed gun as much as on the field.
In an interview to Mumbai Mirror, Nagarkoti, the son of an Army subedar, said mental strength was just as important as physical conditioning as he got down to regain full fitness.
"If you are physically strong, and not mentally, there is an up-down fluctuation in the mind. You work on your mental strength – probably with early-morning yoga and meditation. I believe in doing yoga and practising meditation because your mind stays really fresh and you always stay positive,"

the 20-year-old Nagarkoti said.
He added that alongside strenuous gym workouts, waking up every morning with a positive mindset and practising yoga and meditation copiously is equally important for a sound mind and body.
Speaking on equations with Mavi off the field, the Barmer boy, who took the first ever List-A hat-trick for Rajasthan just two days after making his debut in the format, said, "We have a very good partnership. I have heard and even seen people talk about how we don't get along well because of the competitiveness between us, but there is nothing like that. We do compete but it's healthy. Our thinking is that if one takes three wickets, the other has to take four. But it isn't as if we are angry when one of us outperforms the other. We've been together since our Under-19 days and make each other understand things. We've a really good bonding."
Though the extended spell on the sidelines made him miss a good bit of domestic action, Nagarkoti has featured in 9 List-A matches for Rajasthan, picking up 11 wickets at a strike rate of 31.4. His best in this format is 3/30, with the wickets coming off successive deliveries.
Asked who he turned to for advice during the time he was forced into injury management, the young tearaway said, "I spoke to Varun Aaron and Ashish Nehra. They said injuries at the beginning is something every bowler has to deal with. How you make yourself stronger and come back is what matters in the end. The trick is to be positive and feel that you have got to get out of this and do well." He said how an athlete comes back after an injury setback is what defines him.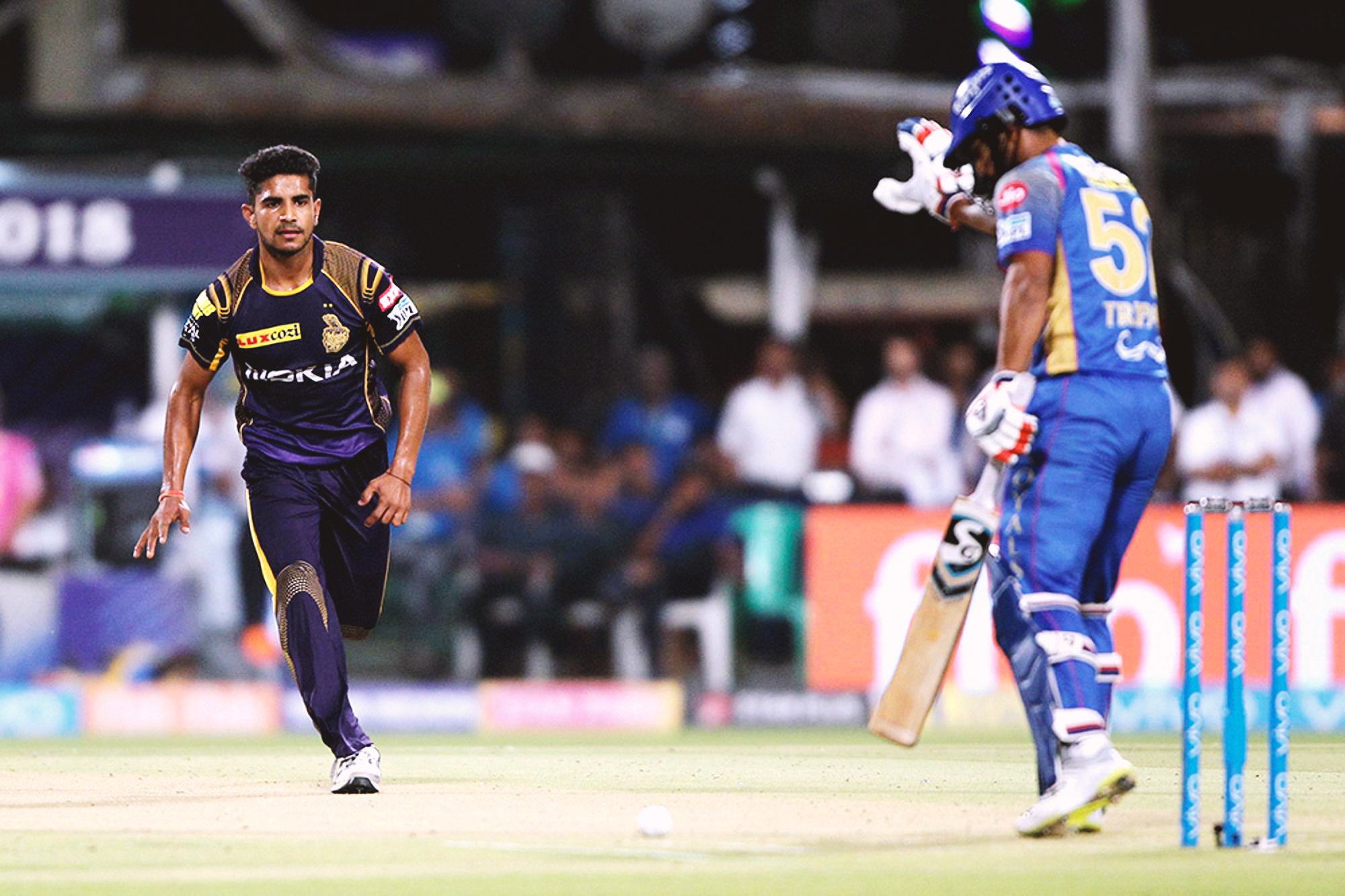 His 21-year-old bowling mate has featured in 6 first-class matches for Uttar Pradesh, picking up 25 wickets at a strike rate of 42.7. He returned best figures of 6/83 in an innings. He has claimed another 22 wickets in 16 List-A matches, with a best of 5/73. However, he doesn't have much to show in the wickets column in IPL, picking up just 5 wickets from 9 matches at an economy rate of 9.64.
In a chat with ESPNCricinfo, the speedster said the delay in hosting domestic cricket's biggest showpiece worked to his advantage.
"The IPL being postponed has been a blessing in disguise for me. Had the tournament happened in April-May, I would have missed my second straight season. I was scheduled to recover only in mid-April. Then to cope with that kind of bowling workload straightaway may have been tough. The last four months have given me time to recover, rehabilitate and become stronger,"

the 21-year-old Mavi told the portal.
With the KKR going into Season 13 of the League with a vaunted pace battery, which also features the likes of Pat Cummins, Lockie Ferguson, Harry Gurney, Andre Russell as well as future India prospects Prasidh Krishna and Sandeep Warrier, there's a fair chance that the Mavi and Nagarkoti might not get to play together every match. But if and when they do, expect them to conjure up something special as they did in Maori land in 2018.