"Rohit Sharma can establish himself as a regular test opener," opined Md Shami during a video chat with the former Indian All-rounder Irfan Pathan.
The Indian premier fast bowler heaped praises on Rohit Sharma, who has been in a prolific form in last couple of seasons and especially in 2019, when he broke Sanath Jayasuriya's 22-year-old record of being the highest run scoring opener across all formats in a calendar year.
He was joined by cricketer turned commentator, Irfan Pathan who compared the right-handed batsmen to a poet in awe of his effortless and smooth batting.
Prolific 2019 As A Test Opener
2019 saw Rohit Sharma open for India in the test matches. Rohit scored 556 runs in 6 innings of the 5 test matches at a prolific average of 92.7 and a strike rate of 76. He scored 3 centuries, including a double century against South Africa. Interestingly, all these runs came at the top of the order as he was given an opportunity to open the innings in place of struggling KL Rahul.
Rohit Sharma, who made his test debut against West Indies in 2013, has played most of his test 32 Test matches as a middle order batsman. As a middle order batsman he averaged only around 40 and struggled to recreate the same impact in the 27 Tests he played 5 years before the 2019 season.
But now, with a successful year as Test opener, can Rohit Sharma establish himself as a regular Test opener for India?
Can Rohit Now Make Big In Tests Like ODIs?
Is this his 2013 moment, when he began opening in ODIs and went on to reinvent himself as an unstoppable run machine.
Back then the team management and Indian captain MS Dhoni persisted with Rohit Sharma, who had been on and off the Indian ODI squad, and gave him an opportunity to open the innings against England in Mohali in 2013.
In the Champions League which followed, he formed a superb opening combination with Shikhar Dhawan and has not looked back ever since.
Before the Champions Trophy, Rohit Sharma had scored only 2065 runs in 83 innings in the 86 matches he played. He had only two centuries to his name and there was only one year (2011) where he had averaged more than 50.
Since 2013, he has scored 27 centuries, which includes 3 double century, a rare feat accomplished only by him.
Can Rohit Sharma now make it big in the Tests too?
The Indian Quest For A Test Opener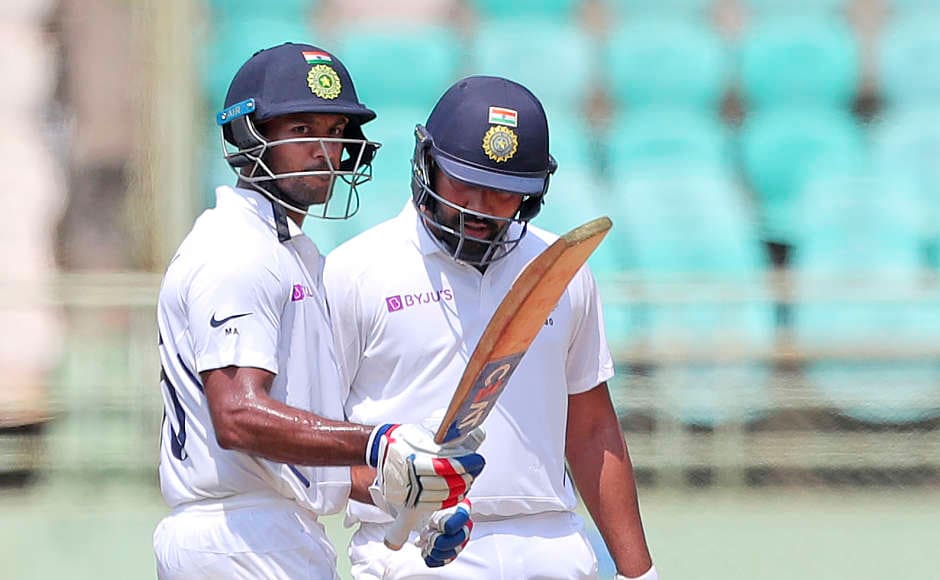 Since 2018, India has tried as a many as 8 players (KL Rahul, Murali Vijay, Shikhar Dhawan, Parthiv Patel, Prithvi Shaw, Mayank Agarwal, Hanuma Vihari and Rohit Sharma) at the top of the innings in the Tests.
Murli Vijay and Shikhar Dhawan have failed to perform despite repeated opportunities. While the former averages just 18.80 in the 8 matches he last played in 2018, the later averages 27.36 in 6 matches he last played for India in 2018.
Hanuma Vihari has now established himself in the middle order with his performances in West Indies and Australia.
Rahul was dropped after repeated failures during 2019, when he could only muster 110 in the 5 innings of the 3 matches with a paltry average of just 22.
Mayank Agrawal has scored 974 runs in 17 innings of 11 Tests he has played in a short Test career. During the last home season, he along with Rohit Sharma provided India the formidable opening stands. However, Mayank struggled in the New Zealand.
Prithvi Shaw has just played only 4 Tests, however he couldn't make much of the opportunity he got in New Zealand in the absence of injured Rohit Sharma.
Rohit has a good run in the last season to back him at the top of the order. But, the question is at 32, how long will he be able to play for India and should India give him opportunities rather than investing in someone like Prithvi Shaw and Shubman Gill.
Rohit, as hailed by Shami, is the best package and a next-level batsman on his day. But, the question remains can he seize the moment and the momentum behind to establish his place in the test squad as an opener?
Follow us on facebook for more sports news & updates