Among all the matches played between men and women on the tennis court as part of the Battle of the Sexes, we look back at the most crucial battle. The 1973, Bobby Riggs versus Billie Jean King, ''Battle of the Sexes'' offered Women's tennis a much acceptable space in the tennis world.
While Billie Jean King had been the world no.1 for 5 years, the male chauvinist Bobby Riggs was a 52-year-old player from a different era, and challenged her to the "battle of the sexes". The tennis match garnered great attention from across the world as two Americans were out on the court. While for Riggs it was about showbiz, Billie Jean wanted to tell the world, what women could do.
What incited the battle?
Bobby Riggs thrashed the 20year old Margaret Court who lost in straight sets to him. She was unable to cope with his playing style and this victory only made Riggs' claims sound right.
Astounded by his victory, Riggs immediately called out the opponent he preferred all along. "Now I want King bad," he announced. "I'll play her on clay, grass, wood, cement, marble or roller skates . . . We got to keep this sex thing going. I'm a woman specialist now."
He had been an advocate of women not belonging to the tennis court. On the other hand, Billie Jean had been working hard to get equality for women in tennis. Billie Jean even sorted to boycott US tennis tournaments and form a novel tour, if the vast pay gap between men and women on the tennis court was not altered.
The match
Post a summer of trash talk, Riggs even uttered the cringy words on why he would win, "I'll tell you why I'll win. She's a woman and they don't have the emotional stability." Amidst such slurs was the "Battle of the Sexes" finally decide.
The stage was set, the stadium was filled with 30,000 spectators, who set all eyes on the court at Houston Astrodome. A $100,000 winner takes all match between the Riggs and Billie Jean was about the begin. As it was, the entry of the players too was a symbol of what each of them stood for. Billie Jean King was carried by four muscular men who belonged to Rice University track team and Bobby Riggs entered in a rikshaw gathered by "Bobby's bosom buddies."
The gift exchange was metaphorical of what they thought of each other. While Billie Jean gave him a baby pig as Riggs was a regarded as a male chauvinistic pig and Riggs decided to come with a giant Sugar Daddy lollipop. The battle was clearly going to be a lot more than the pre-match entertainment. For Riggs it was just another shot at garnering fame and much like his image, his crazy actions were never shocking coming from his end. However Billie Jean was representing women and fighting for equality.
When the match began, Billie Jean went down in the first set. She was trailing 2-3 when Riggs broke her serve. But then decided to stick to her baseline. When she finally started to get a grip on the match, Riggs took off his Suggar Daddy jacket and switched his game play. He now wanted to attack and win points by not running around the court. He started to volley aggressively and did serve-volley on his serve.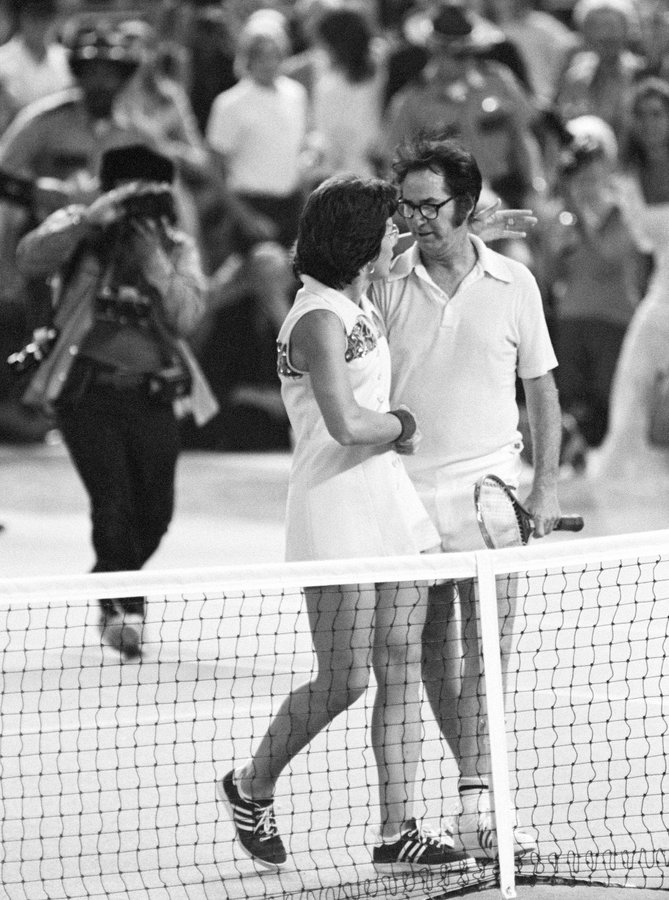 The second and third set were in the favour of King too. she was there staring at victory and boom, she defeated Riggs with a 6–4, 6–3, 6–3 victory. The loser wanted a rematch but King was not ready. She had proven what she wanted to prove.
The match attracted a viewership in 1973 was 50 million in the U.S. alone and 90 million worldwide.
Importance of Battle of the Sexes
When Billie Jean King won the 1973 match, the US Open that year became the first slam to provide equal prize money to both men and women. This leap gave the U.S Tennis was accredited to King. Since then it took more than 4 decades until all slams gave equal pay to the men and women winner. The French Open in 2011 became the last to rid the pay gap.
Billie Jean later said, "I thought it would set us back 50 years if I didn't win that match. It would ruin the women's tour and affect all women's self-esteem."
Today what exists as Women's Tennis Association (WTA) too was the toil of Billie Jean. She was part of the Original 9, which formed the Virginia Slims Series, modelled to end the inequality between men and women. These nine women created their own tournaments and played wherever they could and eventually, it became the WTA.
Today the heights that women's tennis has achieved is largely due to the hard work put in by women such as Billie Jean King, Serena Williams, Martina Navratilova and Margret Court. Women's tennis has been leaping forth ever since, and today the female tennis players are,as well recognized as their male counterparts.
Follow us on facebook for more sports news & updates