The second day of the ongoing Ranchi Test saw Indian batsmen continuing the run-fest and South Africa faltering at the stumps. Rohit Sharma scored his maiden double century leaving South Africa deflated and the climax came in the face of Umesh Yadav who scored a 31 off 10 balls with 5 sixes. Here is the IND vs SA 3rd Test Day 2 Highlights.

Mission accomplished for Rohit-Rahane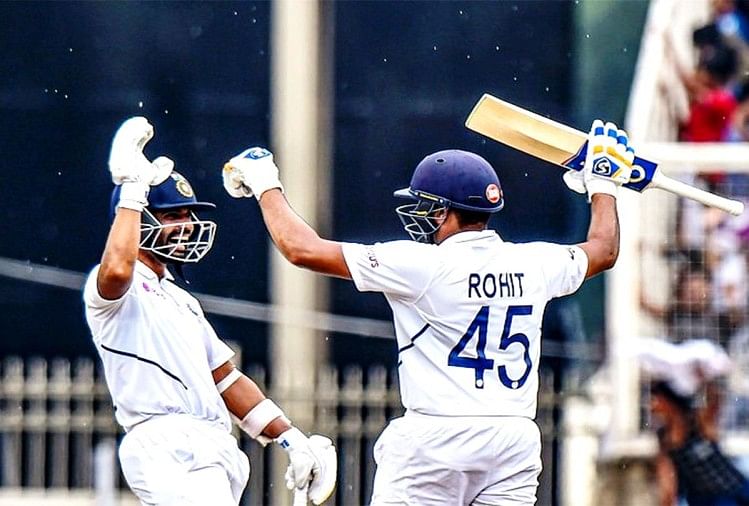 IND vs SA 3rd Test Day 2 Highlights began with Rohit Sharma and Ajinkya Rahane in the middle with the hope of piling up as many runs as possible.

There were clearly two initial ambitions when the duo resumed batting the morning. Rohit Sharma's maiden Test double hundred and Ajinkya Rahane's first Test century at home after 2016.

Both wanted these for long and finally achieved. South African bowlers were inconsistent in bowling which resulted in conceding more runs.

The duo added 267 runs finally for the 4th wicket before Rahane was dismissed by George Linde. Rahane scored 115 runs with 17 fours and one maximum.

Rohit Sharma, on the other hand, reached his double with a huge six and finally added 212 runs off 255 deliveries before being the third prey of Rabada.

Rohit's records


IND vs SA 3rd Test Day 2 Highlights saw Rohit became the first Indian to complete a double century in Test cricket by hitting a six. Only 13 players before Rohit completed their Test 200s by smashing a six.

Rohit is also only the 4th player to score a double century in both ODIs and Test cricket. Sachin Tendulkar, Virender Sehwag, and Chris Gayle are the other three players with this double.

Rohit's nine tons in 2019 are the joint-most by any player in a calendar year as an opener. Sachin Tendulkar in 1998, Graeme Smith in 2005 and David Warner in 2016 are the earlier players to hit nine tons apiece while opening the innings.

Rohit just needed 249 balls to complete his double century in this match which is the 6th fastest by an Indian. Rohit is only the 5th Indian opener to score 500 runs in a Test series. The last one was Virender Sehwag in the 2005 home series against Pakistan.

Jadeja's 50 and Umesh' cameo


After accumulating all these records to his name, when finally Rohit went back to the pavilion Wriddhiman Saha joined Ravindra Jadeja to work on the momentum.

Jadeja was already doing his job well and contributed in a 64-run stand with Rohit. Jadeja and Saha together added almost 50 runs before Saha left for 24 runs. Jadeja smashed a 51 before getting out with India's score 450/7 on board at IND vs SA 3rd Test Day 2.

Umesh Yadav then came to add some fireworks as he hit five maximums to score 31 runs from 10 balls. When all were ready for another 500+ total in India's first innings, Virat Kohli suddenly declared the moment Umesh was out. It did come as a shock to many but by then Indians were in a strong position to defend that total.

South Africa's struggle continues


It was probably the most difficult time of the day when the Proteas were asked to bat by India. And the outcome proved the same. The furious Indian bowling was once again on display.

Both openers were gone within the second over of South African innings before the bad light became the savior. IND vs SA 3rd Test Day 2 Highlights ended with South Africa 8/2.

If there was any highlight of South Africa's performance it has to be the debutant, Geroge Linde. At the beginning of Indian innings, he gave a glimpse of his goodness as a spinner.

Today he turned out to be the highest wicket-taker as he picked up four wickets for 133 runs. Apart from these occasional wickets, it was all about India though even on the second day.