The Ranji Trophy 2019-20 came to an end with Saurashtra lifting the title under skipper Jaydev Unadkat. Saurashtra went on to defeat Bengal in the final at Rajkot last week.
The match was drawn, however, Saurashtra broke their final jinx by taking a crucial first innings lead. Prior to this, Saurashtra had reached the final in 2019, 2016 and 2013.
It was another season where plenty of records tumbled, players went on to excel for their respective sides and some dazzling performances greeted one and all.
Players like Rahul Dalal (Arunachal Pradesh), Taruwar Kohli (Mizoram), Puneet Bisht (Meghalaya) and Paras Dogra (Puduchhery) excelled with the bat, scoring truckload of runs.
On the other hand, the likes of Jaydev Unadkat, R Sanjay Yadav (Meghalaya) and Harshal Patel (Haryana) went on to shine in terms of picking up wickets aplenty.
Over the years, several domestic stars who did well in the Ranji Trophy, went on to earn Team India call-ups. In terms of current Team India stars, several big names broke into the international arena because of their splendid performances in India's premier domestic cricket.
The current Indian stars namely Ravindra Jadeja, Jasprit Bumrah, Hanuma Vihari, Bhuvneshwar Kumar and many more owe their success to Ranji Trophy.
This season too, fans we all witnessed several performers that stole the show with their performances and can be prime hopefuls for Team India in the near future.
KS Bharat a Perfect Wicket-Keeping Option
KS Bharat has already been an option seen by the Indian management of late. He was called up to the side as cover during the India-Bangladesh Day-Night Test. The prolific wicket-keeper batsman impressed a lot while playing for Andhra in 2019-20 Ranji Trophy.
He was the most successful wicket-keeper in the tournament and went on to execute 37 dismissals behind the stumps at an average of 2.85 dismissals/innings. Not just that, he also kicked off his Ranji Trophy campaign with an unbeaten century.
With Rishabh Pant not quite doing justice, Bharat comes in as a perfect option for India especially in the longest format.
Jaydev Unadkat Can Be a Trump Card For Team India
The Saurashtra skipper was undoubtedly, the star of the season. Given how the Indian pitches suit spinners at large, it was a testament for Unadkat , who ended the campaign with 67 wickets and was the leading wicket-taker.
Unadkat's seven-for against Gujarat in the second innings in the semi-final was, perhaps, the moment of the season. He stood tall and excelled for his side against a notable batting side. The 28-year-old left-arm bowler also possessed the ability to get movement off a dull Rajkot track right through the season. This was mighty impressive.
Unadkat showed his true value and stood out as a bowler. If India need a left-arm pace bowler, then this man is the right candidate to step up and deliver. He can bring different options.
22-year-old Sarfaraz Khan Can Have a Bright Future
Sarfaraz Khan had a stellar season for Mumbai with the bat. Known as average in Ranji Trophy 2019-20, Sarfaraz Khan emerged as one of the most improved players in this season. Just 22, the talented individual can do wonders if he continues to bat in the manner in which he did.
India need back-up options in the middle order and Khan can present a case. He began his campaign with an unbeaten innings of 71 runs against Karnataka. He failed to score big against Tamil Nadu but he shattered multiple records with a superb innings of 301* against Uttar Pradesh.
In the 2019-20 Ranji, Sarfaraz scored 928 runs in six matches at 154.66 with three tons and two fifties.
He followed it up with an unbeaten double century versus Himachal Pradesh He also scored another century in his team's final match against Madhya Pradesh. Sarfaraz is an all format player and can ring an alarm for the selectors in the coming time. If the IPL 2020 season goes ahead once the coronavirus issue cools down, then Sarfaraz will eye to score plenty for Kings XI Punjab.
Abdul Samad a Big-Hitting Star In The Mix
The big-hitter from Jammu and Kashmir, Abdul Samad entertained one and all with his towering sixes. He ended up with a whopping tally of 37 sixes in the competition. Notably, no other batsmen managed even 30 sixes this campaign.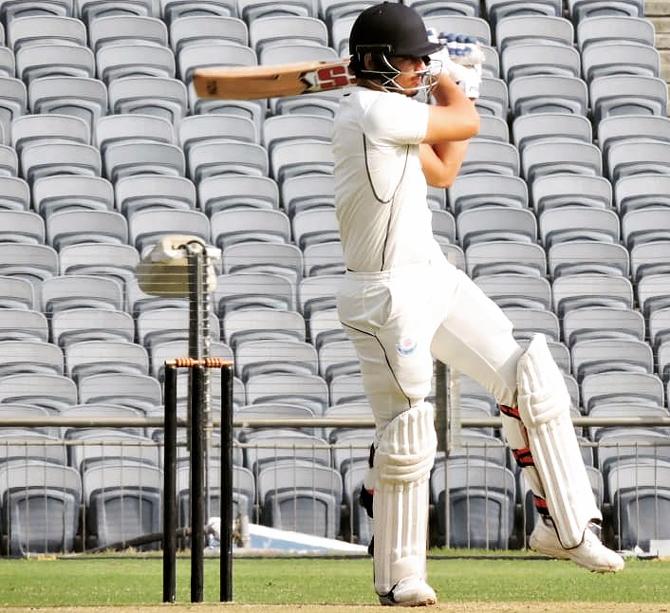 The promising cricketer is a part of Sunrisers Hyderabad's squad in IPL 2020. If the season goes ahead, then he could be one of the youngsters to watch out for.
Interestingly, former Indian all-rounder Irfan Pathan played a huge role in his success. The talented individual showcased his talent with some noteworthy performances in this tournament. The 18-year-old player did not feature in the India U-19 squad for the ICC U-19 World Cup 2020. However, he possesses a real talent when it comes to getting the big sixes.
His best moment was a 73-ball century against Assam. He repeated a similar performance against Jharkhand as he hit 11 sixes in his innings of 128 runs. He could be an option in T20Is in the near future.
Ishan Porel is Making The Right Noises
21-year-old fast bowler from Bengal, Ishan Porel led his team's pace attack magnificently in the Ranji Trophy 2019-20. Interestingly, Porel was part of India A squad that toured New Zealand during the course of Ranji Trophy. This led to him missing a few games for Bengal.
However, he was was one of the top performers for his side, playing a match-winning role for them in the semi-final versus Karnataka. Porel had earlier picked up a four wicket-haul each in the match against Gujarat and Andhra, whereas he scalped seven wickets in the high-pressure encounter against Karnataka.
Many Indian pacers are struggling with form and fitness of late. The limited-overs side especially has seen many options for Team India in recent times. However, the Indian selectors could try Ishan Porel as an option. He has genuine pace and accuracy to fit into the scheme of things.
Arzan Nagaswalla, Another Left-Arm Pacer in The Mix
Gujarat reached the semi-finals in this campaign and their top performer for the season was young Arzan Nagwaswalla. The 22-year-old left-arm pacer claimed a 10-wicket match haul against Punjab earlier in the season. He then followed that up with a string of some genuine outings with the ball. He bagged four-fors in the quarters and semis and stood out with some fine display for Gujarat.
Playing in just his second First-Class season, Nagwaswalla can build on this show and make a real name for himself in the coming time. If he manages to keep up with the consistency, then India could have another genuine option up their sleeves. In eight matches, he claimed 41 wickets at an average of 18.36.
Who Started Ranji Trophy?
The Trophy is known as after Sir Ranjitsinhji Vibhaji Jadeja. He was the ruler of the Indian princely state of Nawanagar and a fine batsman who played 15 Tests for England between 1896 and 1902. The Ranji Trophy competition was first scheduled in 1934-35.
How much money does a Ranji Player get?
So if you check out it, a Ranji Trophy player earns on the brink of Rs. 1.50 Lakhs per game that totals to approximately Rs. 10 Lakhs per season, as long as you play 6-7 matches during a season.
Do Ranji Player get government jobs?
Earlier, cricketers secured regular jobs with government departments and corporates, but these are now gone and their only source of earning is match fees from playing Ranji Trophy. … Ranji players get paid as long as selected and therefore the lucky ones who play all matches altogether formats stand to earn approximately Rs 10-12 lakhs.
Join our facebook family for more useful updates