If you are a cricket fan, then the numbers would certainly interest you. After all, they hold the 'tell-all' to a tale. Don't they?
But if you happen to be a West Indies fan, then you'd much prefer to look into any other direction but the one which points to their ODI performances.
Wondering why?
From the onset of 2015 until the present day, the West Indies have won only 2 bi-lateral ODI series' having contested in 19.
And the only series wins the West Indies registered in the past half a decade of playing ODI (bi-lateral) series came against Afghanistan (in India, 2019) and Ireland (at home, 2020).
WI's sublime effort against Ireland
But on their 2019 tour to Ireland, for a tri-nation series, also featuring Bangladesh, the West Indies hit vastly different fortunes, one that probably none saw coming. One that would make any stalwart from the past era- whether Sir Garfield Sobers or Sir Viv mighty proud of the boys from the Caribbean.
On May 5, 2019, playing the series opener against the hosts at Dublin, the West Indies reached a team tally of 381 for the loss of 3 wickets. While the visitors would do as well as reach the finals to play Bangladesh, it was this very game that saw the men from the Caribbean do the unthinkable.
Probably a feat that even the then-playing XI may not have expected to scale.
Surely, playing Ireland can be an easier ask than say contesting an Australia Down Under or tackling Kohli's men in the sub-continent.
But when you lock horns with a unit that has brute strikers of the white-ball in Paul Stirling and Kevin O'Brien, and a seam attack featuring the great Tim Murtagh and Adair in Irish conditions, things may not readily seem a one-way street.
Ireland had no clue what Windies had on offer
As Shai Hope and John Campbell went about gathering their runs, they did so striking impressive hundreds, putting the West Indies right on top of a record-shattering occasion.
The 365 run stand saw the West Indies openers bat on for a hefty stay of 47.2 overs. In the process of plundering a tonnage of runs, both batsmen reaching highest individual scores- Shai Hope with his career best of 170 and John Campbell notching up a 179- Ireland's bowlers were treated with utter disdain and those in attendance with a sheer stunner.
You couldn't believe what you saw. How often have the likes of Tim Murtagh- 100 international wickets- have been treated to returns of 10-71-0?
The most economical bowler for Ireland was opening batsman Paul Stirling who went for only 3 an over but that's after bowling just 2.
Others- slow left-arm orthodox bowler Dockrell and medium-pacer Barry McCarthy went for 8.1 and 7.6 an over respectively.
Collectively, the West Indies plundered 318 of their 381 against the seamers making the Dublin contest less of a contest and more of an encounter where one felt a weasel was trampled by an elephant.
It wasn't that the pitch was a dead belter. It was more about Shai Hope and John Campbell backing themselves to get on a good score. And in the process of taking the West Indies to the whirlwind feat of the maximum opening run stand, both Hope and Cambell struck daddy hundreds.
How Campbell went about his runs?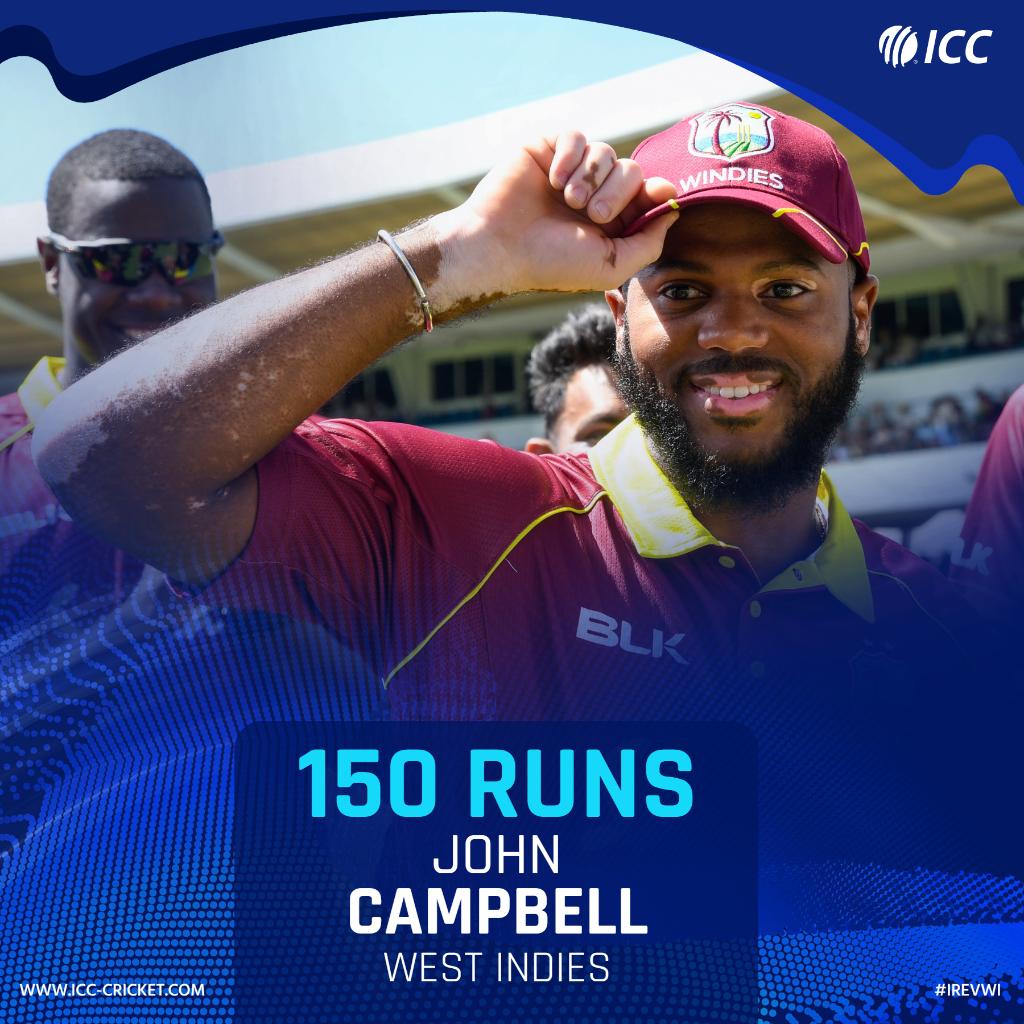 , who has since then, struggled to maintain his place in the limited-overs fixtures was severe to anything short and outside the line of the off-stump.
The massacring pull shots and hits down the wicket were a dominant part of his display, one that accumulated 15 fours and 6 sixes.
Therefore, of his 179, 96 runs came only through hits to the fence.
Shai Hope, on the other hand, was more watchful if not sedate or miserly in his treatment of the Irish bowlers. The one with flowing cover drives and strong backfoot punches, the sort of batsman who used the pace of the bowl to gather a lot runs square of the wicket and toward an often preferred mid-wicket region.
How did Shai Hope's knock pan out?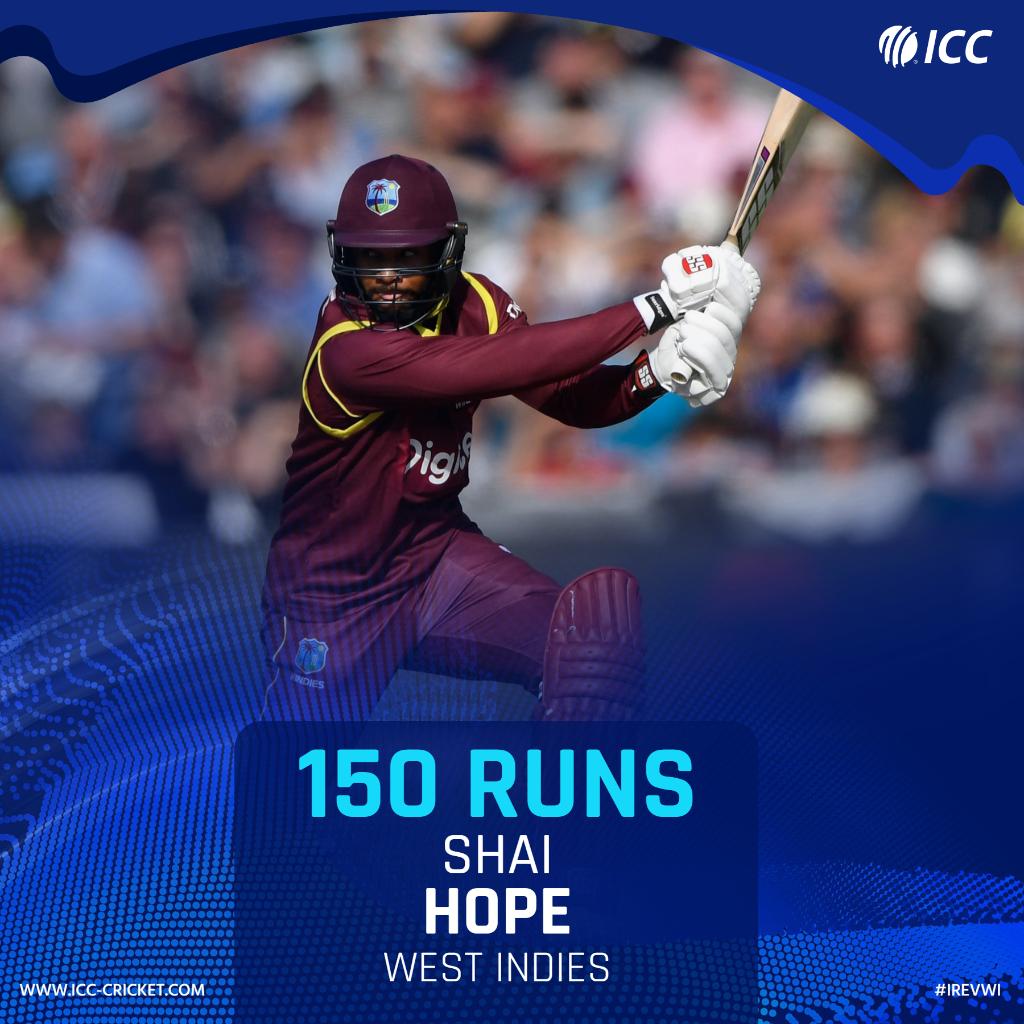 Of his 170, 88 runs came merely through fours while he collected 12 runs through sixes. Do the math and you realize on that gloomy day for Ireland, Shai Hope struck a century of runs only through fours and sixes.
As a whole, the partnership stand, as entertaining for Windies fans as devastating it was for the vanquished, also carried an element of surprise.
In the sense that while Shai Hope had had a fair experience of playing, having debuted in 2016, John Campbell, the team's top-scorer was only competing in his second-ever ODI series.
Previously, before setting afoot in Ireland, the Jamaican had only scored the best score of 30, compiled against a lowly outing against the English.
But on May 5, the left-hand- right-hand alliance, took Ireland by utter surprise. To a game that wishes the batsmen to engage in the symphony of the bat, Shai Hope and John Campbell unfurled a mega 'rockathon'; one that featured the sound of thuds, hoists, pulls, cuts, and every hammering possible by the willow.
But when you realize that the highest ODI opening stand of all time rests with the West Indies- a bottom-dweller in ICC's standings- you are struck by as much an element of shock, but also a hint of a warning.
That West Indies own the record despite international cricket having the likes of prominent openers in Rohit, Shikhar, Warner, de Kock, Karunaratne, Roy, Hales, Bairstow surprises as much as floating a warning of all the destruction the West Indies can offer, a team, after all, with mighty maulers in the mix featuring Hetmyer, Hope, Russell, Brathwaite, Powell, Pooran and the likes.
Then on top of it, when you also realize that it's no other team but the West Indies who own the record for the highest-ever partnership stand in ODI history- the 372 compiled by Chris Gayle and Marlon Samuels- you learn to not take them lightly.
A lesson for the current generation
It was ODI number 3612 when Gayle- 215- and Samuels- 133 not out carved Zimbabwe on way to a threatening score of 372, that too in Cricket World Cup 2015.
Then along came Shai Hope- the rock of West Indies batting- and John Campbell, 516 ODIs later, to take the team to another lofty achievement.
That being said, while West Indies went on to win that contest by 196 runs, after Roach and Cottrell left Ireland at an irreparable 21-3, Gabriel doing further damage, the 365-run stand also serves an avid reminder to their current stars:
That a lot can be achieved if the team bats together and actually rallies along with one other's strength (s) as also proclaimed by the ever-hit song: "Rally Around The West Indies!"
Follow us on facebook for more sports news & updates