There are certain dates that an Indian cricket fan can never forget. July 7, 1981 is the birthday of MS Dhoni. November 5, 1988 is the birth of Virat Kohli. April 30, 1987 is Rohit Sharma's birthday.
However, for all fans, one date supersedes all the others. He set the original gold standard for batting in world cricket. He carried the burden of a billion hopes every single time he stepped out on the field. He amassed numbers which became the benchmark for every cricketer.
April 24, 1973 is a special day for all cricket fans for it is Sachin Tendulkar's birthday. The ultimate dream of a cricket fan is a photo with the great one. In this article, I outline how a 24-year wait to meet him and get a photo done finally ended in dramatic circumstances.
Memories And An Opportunity
My first memory of Sachin Tendulkar was in the 1992 World Cup clash against Pakistan at the Sydney Cricket Ground. From that point in time, every single Sachin Tendulkar moment became etched in the conscience of a billion Indians.
The 82 in Auckland 1994, Tendulkar's Desert Storm Heroics Against Australia in Sharjah 1998, 98 vs Pakistan in 2003 World Cup at Centurion (THAT upper-cut six of Shoaib Akhtar in particular), the 2010 ODI double ton against South Africa, the 2011 World Cup triumph, the 100th century and his international retirement.
With all these legendary feats memorised, I got an opportunity to get a photo with him but it came in dramatic circumstances.
Braving the deadly Delhi fog
I was in Mathura at my in-laws place in December 2016. The fog outside was deadly and I was glad that I did not have to go out for anything. Suddenly, I get a call from the Hindustan Times Sports Editor on December 1. He tells me that I have to reach Delhi on December 2 as I had to shadow one important person. I asked who it was. The answer was Sachin Tendulkar. I had to personally shadow him for the Hindustan Times Leadership Summit.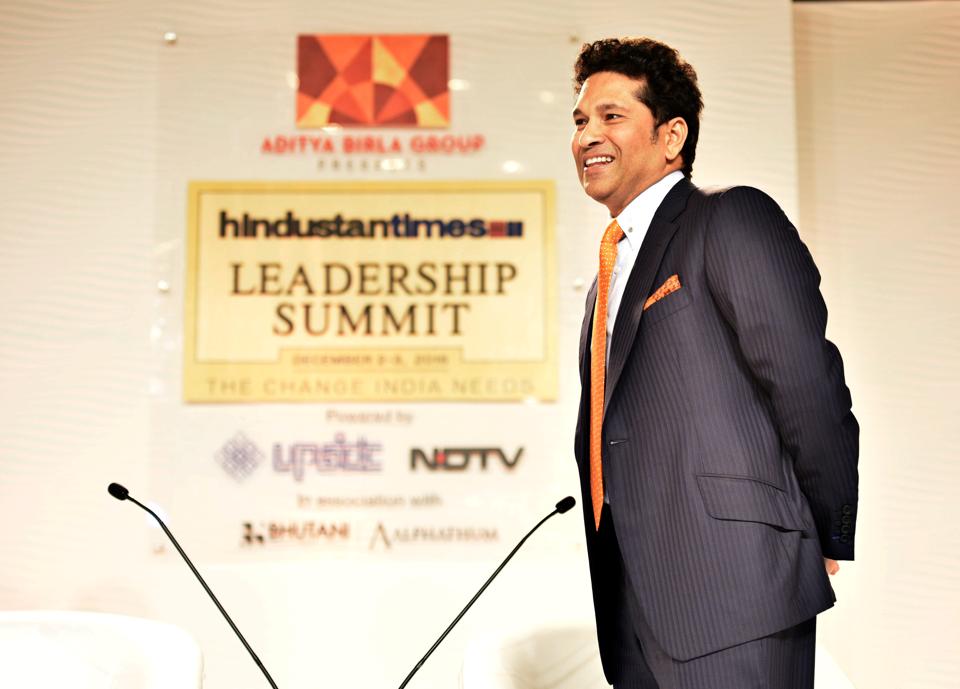 What an opportunity! What a chance! Gasping for breath, I said ok and kept the phone down. Little did I realise that the elements were against me. The fog was deadly. No trains were running. I was faced with a big dilemma. I hired a car and in zero visibility fog, I braved a car ride from Mathura to Delhi.
In the Yamuna Expressway, the fog was thickest at the expressway. My car was going at 30 kmph. What should have taken 2 hours from Mathura to Delhi took me 5 hours. I was praying the entire time. "Oh god! Don't create an accident by which I can never meet Sachin Tendulkar," was my prayer. I reached home late and the next day, I went to the venue and reported to the editor.
The word came that even Sachin Tendulkar's flight from Jaipur was delayed due to the fog. Now, there was apprehension that Tendulkar might cancel his arrival at the summit if things did not improve by 10 AM. At 8 AM, the fog was thick and I thought the chance was gone.
By 9 AM though, the fog lifted. The call came. Tendulkar's event would be delayed by two hours but he WAS coming. Word came through his manager that he had reached the hotel and wanted some rest before coming down. At 11:30 AM, I got a call and the manager told me to come up.
I went to the lift and pressed the second floor. I got out of the corridor and waited. The manager came and said, "Wait for Sachin here. He is coming". That moment came. Tendulkar came out and smiled politely at me. At that moment, my heart was aching. I was overcome with fandom. I was wondering, "24 years of waiting has come down to this." He said, "Hello". I could manage a weak smile.
In the lift, I told the manager, "I will never get this opportunity. Can I have a click with Sachin Tendulkar?" He gladly obliged and I got my frameworthy photo with the legend. When I got out of the ground floor, word had leaked that Tendulkar had arrived. Out of nowhere, 100 fans came and were jostling with me for a photo-op with Tendulkar. Some tugged at my coat but I held my ground and refused as I had to guide Tendulkar to safety. He finally made it to the summit hall and delivered a magnificent speech.
Those few moments with Tendulkar will remain etched in my life forever. There were risks involved. There was plenty of tension. But, in the end, I got my moment. Thank you, Sachin Tendulkar for obliging THIS fan.
Follow us on facebook for more sports news & updates