July 10, Friday, marked a year since India's heartbreaking semi-final loss against New Zealand in the 2019 World Cup.
Although a year has rolled, one can scarcely forget the tears in Dhoni's eyes as he trudged back to the pavilion in what was, for all intents and purposes, his last World Cup.
This was, as many believed, India's World Cup to lose. They hadn't taken a single wrong step, barring the defeat to England in the pre-elimination stage. They romped home in all other games, humbling opponents on the way.
Hence, the sizable contingent of Indian supporters were literally in tears when Kohli's boys finally came unstuck against the Kiwis.
Although, halfway through the game, it looked as if India were well on their way to wrapping it up and making the final.
With a vaunted batting line-up like India's, a target of 240 was never going to be a challenging task for Kohli's boys.
However, in the game that mattered the most, the Indian top order tumbled. The trio of KL Rahul, Rohit Sharma and skipper Virat Kohli returned cheaply, scoring a run each.
What's important to note here is that the game was carried over to the reserve day as persistent rain and wet outfield brought a halt to the proceedings after the New Zealand innings.
And luck seemed to have turned the Kiwi way the day after as the skies were gloomy and the surface affording just that bit of movement to their new ball bowlers.
Kiwi's made merry with overhead conditions
With overhead conditions quite similar to the one back home, Kiwi opening bowlers Trent Boult and Matt Henry made merry, with the latter being the wrecker-in-chief.
With the top three back in the hut in no time, it was left to the middle order to rise to the occasion and take the country past the finish line. However, the likes of Rishabh Pant, Hardik Pandya and Dinesh Karthik, who hadn't really been tested up until then, failed to come to the party when it mattered.
In fact, when Karthik went, caught by Neesham off Henry, an animated Kohli was seen walking up to coach Ravi Shastri and making a point to him.
After Karthik's exit, Pandya and Pant came together and were involved in a brief partnership, raising visions of an Indian win. Pant, who had fluffed his lines in the many games he got to prove his worth, finally seemed to be getting his act together. He scored four boundaries and seemed determined to bat India to victory.
However, an innings that promised so much was cut short when Pant lobbed a catch to de Grandhomme off slow left-armer Michel Santner. 
Putting a leash on his expressive, impetuous self, Pandya tried to dig in but got out for Santner.
Well tried but remained short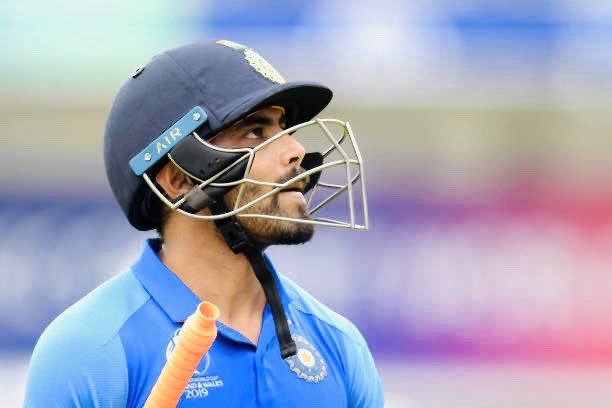 It was then left to Dhoni and Jadeja, the last recognised batting pair, to pull off a rescue act. Jadeja played his best hand when all else had failed, scoring more than a run a ball and taking quick ones and twos. In the calm company of MS Dhoni, he seemed to taking India closer to the target, pounding four boundaries and four sixes.
However, the partnership that promised to take India home despite the batting collapse, ended when Jaddu was caught by Williamson off Boult.
And when a direct throw by Guptill found MS Dhoni inches short off his crease, the match was all over bar the shouting. India eventually fell short by 18 runs.
Taking to Instagram on Friday, Jadeja dubbed the loss in 2019 World Cup semi-finals as "one of the saddest days" of his cricketing career. "We try our best but still fall short sometimes. One of the saddest days!" Jaddu posted.
While the scars of Old Trafford may never heal, one hopes that the loss will spur the Indians on to go one better in the next World Cup.