Muttiah Muralitharan, the Sri Lankan legend and the most prolific bowler the world has ever seen turned 48 yesterday. In 19 year-long international career, spanning from 1992 to 2011, he finished as the highest wicket-taker with an astronomical 1,347 international wickets.
He still holds the record of most Test wickets (800) and most ODI wickets (534). The illustrious career of this smiling assassin has seen its part of controversy when his bowling action was questioned. On his birthday, we look back at the career of one of the best bowler the game ever saw.
The Bowling-Action Controversy
The controversy started at the Melbourne Cricket Ground on the Boxing Day Test in 1995. During the Test, the Australian umpire Darrell Hair called Muralitharan for an illegal bowling action by bending his arm and straightening it in the process of bowling.
The Australian umpire called Muralitharan seven times for throwing the ball in three overs. The Sri Lankan team was outraged by the incident. But the ICC defended the umpire's decision.
After being no-balled, Muttiah Muralitharan bowled another 32 overs from umpire Steve Dunne's end without any protest from Dunne or Hair. The Sri Lankan team were not given an explanation regarding the umpire's call.
Following this, Muralitharan decided to clear his bowling action as per the ICC laws. He went through the biomechanical analysis at the University of Western Australia and at Hong Kong University of Science and Technology in 1996 to clear his action.
His action was eventually cleared and it was concluded that it merely created an optical illusion of throwing and eventually a 15-degree flexion rule was agreed for bowlers.
Highest Wicket-taker
Irrespective of the team's performance, Muralitharan kept troubling batsmen and claiming wickets, series after series. The bowling action controversy was early in his innings in 1995. Following the ICC clearance, In March 1997, he reached 200 wickets mark.
1998 saw his first 10 wickets haul and later that year he produced a career best match figures of 16 wickets for 220 runs while claiming 9 wickets for 65 runs in the second innings reaching 200 wickets. Looking back at his career, Muralitharan believes that his 1998 performance was when his career took off and he never looked back since.
Muralitharan reached 300th Test wicket in his 58th Test in the name of Shaun Pollock. He was the second fastest to reach the milestone after Dennis Lillee. Even after 20 years, he stands third in the list with Ashwin surpassing both Murali and Lilliee.
In 2002, Muralitharan became the fastest and youngest to reach the 400 Test wickets. Later in 2004, Muralitharan became the fastest and youngest to reach the 500 Test wickets in only his 87th Test match.
In 2004, Muttiah Muralitharan surpassed Courtney Walsh's record of 519 Test wickets to become the highest wicket-taker ever. He was dethroned later that year by Shane Warne, a duel that was enjoyed by the whole cricket world.
In 2007, Muralitharan became the second bowler ever, after Shane Warne, to dismiss 700 Test wickets. He reclaimed the record of most Test wickets in December that year by claiming Paul Collingwood as his 709th wicket in his 116th match, 29 fewer than Shane Warne.
In his last Test match against India in 2010, Muralitharan took the last wicket of the second innings to claim his 800th Test victim and become the first ever bowler in the history of the sport to do so. He finished his career with an economy of 2.47 and a strike rate of 55.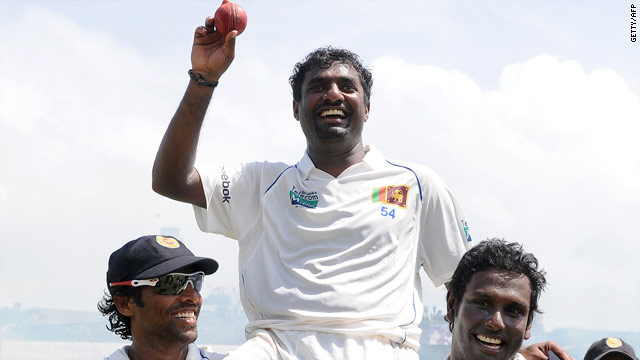 In ODIs, Muralitharan overtook Wasim Akram in 2009 by dismissing Yuvraj Singh in his 327th match, 29 matches quicker than Akram. He ended his ODI career as the highest wicket taker with 543 wickets with a strike rate of 35.2 and an impressively low economy of 3.93.
Records held by Muralitharan
The Sri Lankan spin wizard was the leader of their bowling attack and in his beyond successful career he broke multiple records. Here's a look at few of those records:
Most Test wickets: 800
Most 5-wickets haul in Test: 67
Most 10-wickets haul in Test: 10
Only player to take 100 Test wickets in three venues.
Took 10 Test-wickets haul in four consecutive matches on two occasions.
Most balls bowled in a Test career: 44039.
Fastest in Test to 400, 500, 600, 700 and 800 wickets.
Most Test wickets taken bowled: 167
Most Test wickets taken caught: 453
Most Test caught and bowled: 35
Most ODI wickets: 534
Most balls bowled in an ODI career: 18811
Most ODI wickets taken caught: 290
Most ODI wickets taken caught and bowled: 35
Muralitharan was the brightest star to emerge from Sri Lanka and became the backbone of Sri Lankan team. The spin king was rated the greatest Test match bowler ever by the Wisden Cricketer's Almanack in 2002. He was also awarded the Ada Derana Sri Lankan of the Year in 2017. He was also honoured by Wisden as the leading cricketer of the year in 2006.
Follow us on facebook for more sports news & updates