Ever wondered who the top 10 highest run scorers in IPL history are? At a time when cricket and IPL have all come to a halt due to the coronavirus pandemic, we bring you the top 10 highest run scorers in IPL history.
Ever since, Brendon McCullum scored 158* in 2008 against Royal Challengers Bangalore in the first very match of inaugural IPL, the annual cricket festival has seen batsmen make merry on 22 yards in past 12 years.
Here is the list of…
10 Highest Run Scorers In IPL History
1. Virat Kohli-The Chaser
Current Indian and RCB captain is the highest run scorer in IPL history. He overtook Suresh Raina as the highest run scorer in IPL in the 2019 season of the league. With an average of 37.84 Virat Kohli has scored 5412 runs in 169 innings for his IPL team-Royal Challengers Bangalore (RCB).
Interestingly he has been with RCB since the inaugural season of IPL. Moreover, Virat Kohli is also the only batsman to score four hundreds in one IPL season. He accomplished feat in the 9 season of IPL in 2016.
2. Suresh Raina
Also known as Mr. IPL, Suresh Raina is the second highest run scorer in IPL history. Moreover, Raina is also the most reliable batsman of the Chennai Super Kings in last 13 years. Raina has scored 5368 runs in 189 innings with an average of 33.34.
3. Rohit Sharma
Hitman of Indian cricket and part of Mumbai Indians Rohit Sharma is most successful Captain of IPL. Rohit Sharma has scored 4898 runs in 183 innings played for two different franchise Mumbai Indian and Deccan charges. Apart from this, Rohit also took a hat-trick in 2008 while playing for former franchise Deccan charges.
4. David Warner
Australian opener David Warner is well known for his aggressive batting and brilliant fielding in different formats. Warner has played for Delhi Daredevils (Delhi Capitals) and Sunrisers Hyderabad nowadays. Warner has scored 4706 runs with an average of 43.17 in just 126 innings he played.
5. Shikhar Dhawan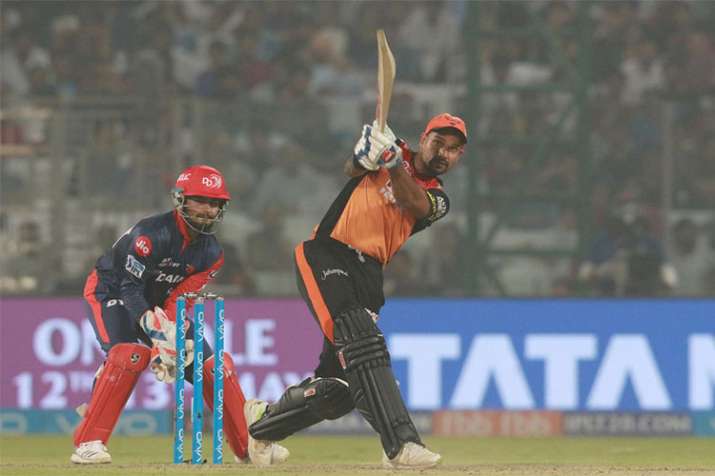 Former opener of Sunrisers Hyderabad Shikhar played for Delhi Capitals in last season. Shikhar has played for different franchises that include Mumbai Indians, Delhi Daredevils and Deccan charges. With an average of 33.42 Shikhar has scored 4579 runs in 158 innings.
6. Chris Gayle
The universal-boss has always been in news due to big hitting and fearless approach. Most popular T20 player of all time is currently playing for Kings XI Punjab. Gayle has scored 4484 runs in Indian premier leagues with an average of 41.13. Chris gayle also scored highest individual score of 175* in 2013 against Pune Warriors India.
7. MS Dhoni
Although MS Dhoni was always known for his Calm approaches but his batting approach is totally different. Everybody is aware about the hitting power and finishing abilities of this wicket-keeper batsman. In 12 years of IPL Dhoni has scored over 4400 runs in 170 innings with an average above 42.
All eyes will be MS Dhoni and his form in the 13th season of the IPL, if it takes place once the coronavirus pandemic is subdued. His form in the IPL will be a key determinant of his place in the Indian squad for T20 World Cup in Australia later in the year.
8. Robin Uthappa
One of the most consistent middle order batsmen of Kolkata Knight Riders (KKR) will play for Rajasthan Royals in 13th edition of IPL. Robin played a vital role in middle order and he is also known for his clean hitting. Robin has scored 4411 runs in 170 innings with an average of 28.83.
9. AB de Villiers
Former Proteas player and Mr 360̊ of cricket Abraham Benjamin de Villiers is biggest threat for opposition team, with his easy hitting and unorthodox batting de Villiers can turn the game anytime. ABD has scored 4395 runs in IPL in 142 innings with an average of 39.95.
ABD who announced his willingness to play for South Africa in T20 World Cup, is looking forward to play in the IPL and prove his form and fitness to the South African selectors.
10. Gautam Gambhir
Former Indian Opener and world cup winner Gautam Gambhir is a left hander batsmen and aggressive captain. Gautam helped Kolkata win IPL twice with his brilliant captaincy. Gautam has scored more than 4200 runs in IPL with an average of 31.23.
IPL 2020, is going to be very crucial for most these batsmen as they have neck to neck competition, whereas there are also a lot of new youngsters who will be ready to replace them in upcoming edition.
Follow us on faebook for more sports news updates