The biggest story ahead of the second Test between England and Pakistan is for certain the non-availability of Ben Stokes for the rest of the series. Stokes has been England's standout player across formats for the last few seasons and is possibly the premier all-rounder of the world.
Such is his importance to this extremely proficient England set-up that he is being talked about despite contributing little (by his standards) to England's enthralling victory in an absorbing Test.
He did not bowl in the first innings and failed with the bat in both; his figures of 2/11 in Pakistan's second innings were the only contribution of note from the 29-year-old World Cup winner.
However, Stokes still remains England's most important player and that is because of the gargantuan credentials he has carved out for himself over the last season where he took England to great heights on the bank of some super-heroic performances.
While his epic innings in the final of the World Cup is already the stuff of legends, no less important was another backs-to-the-wall effort he put in to take England to one of their most famous Ashes wins of all time in Headingley.
Stokes shows the way
The 2019 Headingley Test is considered a part of the greatest ever Ashes Tests for a reason. And Stokes played the biggest role in taking England over the line from a hopeless situation in an unlikely last-wicket partnership with Jack Leach who scored one but remained unbeaten till the end.
England were chasing a mammoth 359 for victory in the final inning. The target looked even more imposing because of the fact no team had crossed 250 till that point of the match and the hosts were bowled out for 67 in the first innings.
Australia, led by the fiery pace of Josh Hazlewood and Pat Cummins, had dismantled England in the first innings, and, powered by Marnus Labuschagne's willow in both innings, had reached a position of near invincibility in the game.
Though England had managed to fight back through Joe Root and Joe Denly in their second essay, they were still a long way off the target when Stuart Broad fell with the score at 286. Australia must have felt that victory was a formality at that juncture.
Stokes had other ideas. In an almost implausibly risky and often creative innings, the left-handed batsman not only shielded Leach beautifully but brought out the full repertoire of his shots to also score at an amazing rate for the circumstances.
As he hit straight and long and reverse swept with aplomb, Stokes knew he had to go quickly because hanging in there just won't do.
Fortune favoured the brave twice in the chase with Nathan Lyon missing a certain run-out and Stokes not being given lbw, a decision that would have been overturned had Australia had a review, but the neutral would believe Stokes, who made an unbeaten 135, deserved to take his team home.
Cut to Old Trafford
Old Trafford 2020 against Pakistan wasn't as spectacular as Headingley last summer, but it was still utterly baffling, full of twists and turns.
Though Stokes had an off-colour game in the absorbing first Test, there were a few striking similarities between England's win at Headingley last year and the one over Pakistan last week.
During long stretches of the game, England were outplayed by the visitors at Old Trafford, just like in Headingley.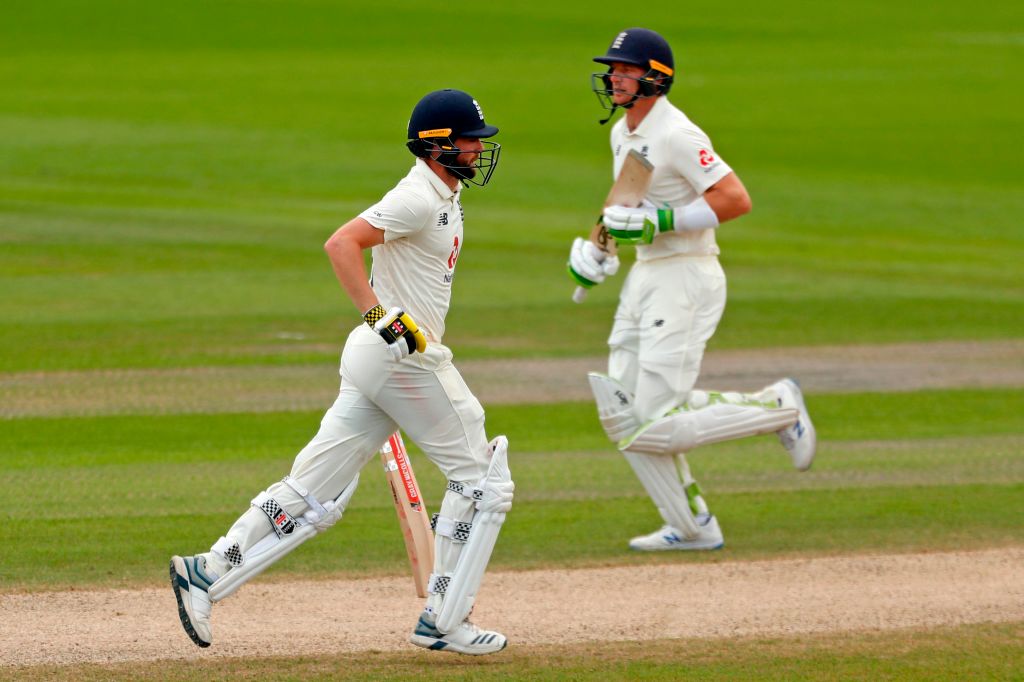 Often England struggled against the swing and pace and guile of the opposition bowlers, just like in Headingley.
Shaheen Afridi, Yasir Shah and Co. bowled beautifully for most of the game and nearly took their side to a famous win.
Even more similarly, England had to rely on a late surge and match-winning backs-to-the-wall partnership. This time, it was Jos Buttler and Chris Woakes who attacked when the chips were down and took the hosts home from a position of adversity.
Missing was the raucous Mancunian crowd, as the game was played in front of empty stands, the new norm in all sports events nowadays. A packed Headingley had a football ground-like atmosphere, with a packed house cheering Stokes on as he took England to an improbable victory.
Perhaps the most crucial thing this comparison tells us is that England have players who will step up when others fail. If Root struggles, Stokes will take over the reins, if Stokes is having an off day then Anderson or Woakes may come to the rescue. This is something Jofra Archer also spoke about while referring to Ben Stokes' absence from the rest of the series.
It also tells us that England do well in adversity, a great quality for any champion side to possess.
Follow us on Facebook for more sports news & updates