The charismatic Yuvraj Singh, in an interview to Sportstar, disclosed that he was disappointed with how he had been treated post recovering from cancer.
Former India, who all-rounder played a crucial role in India's 2011 World Cup victory with his 362 runs and 15 wickets, feels that he got lot more support from Sourav Ganguly in comparison to MS Dhoni and Virat Kholi.
"I have played under Sourav (Ganguly) and had a lot of support from him. Then Mahi (MS Dhoni) took over. It's a difficult choice to make between Sourav and Mahi. I have more memories of time under Sourav because of the support he gave me. I didn't have that kind of support from Mahi and Virat (Kohli),"

Yuvraj was quoted as saying by Sportstar.
Yuvraj was a star player once, the lynchpin to India's success in limited-overs. By the time he hung up his boots, he was no longer indispensable.
For a player, who helped India win the ICC T20 World Cup in 2007 and the World Cup in 2011, he never truly got the send-off that he, perhaps deserved. And that could be because of the way his career ended
And while it won't be fair to put all the blame on Dhoni or Kohli for not giving the Chandigarh born player enough chances, something just wasn't right.
With that said, perhaps in order to find out if Yuvi was actually sidelined purposely, one has to take a look at his track record under previous Indian skippers to find out the truth.
Yuvraj Singh's Performances Under Sourav Ganguly
Having made his debut under Ganguly, Yuvraj was already dispatching the Australian bowlers for sixes and fours in just his second game at the Champions Trophy in 2000. He would go on to play 304 ODIs in Indian colours, 110 of which came under the captaincy of Sourav Ganguly.
A testament to his cricketing abilities is that since his debut, the all-rounder was only dropped from the national team once, in 2010. He would serve Ganguly with all his loyalty forming dangerous partnerships first with Rahul Dravid, and later with MS Dhoni. Both of them credited Yuvraj for his adeptness to score runs at will.
He would go on to become a key cog for India, by the time Ganguly stepped down as the skipper.
Yuvraj Singh's Exploits Under Rahul Dravid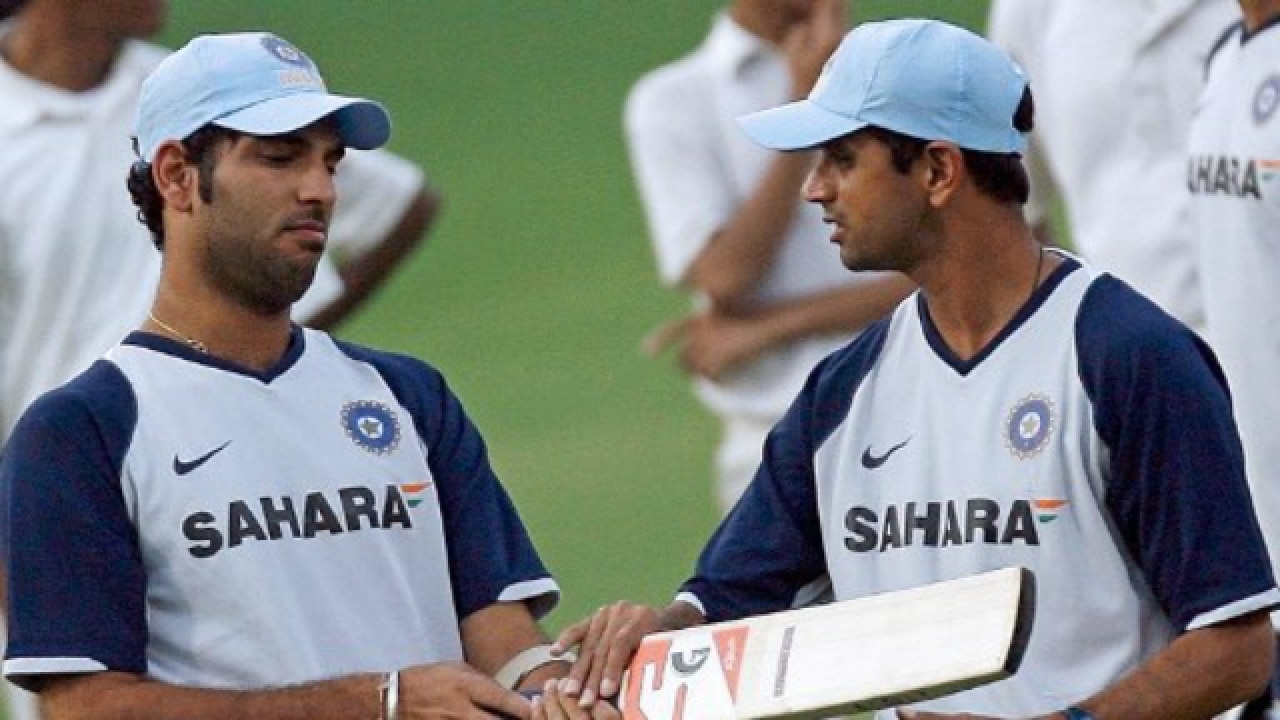 When Dravid took over the national side, the team wasn't really firing on all cylinders. India was able to demolish some of their woes on foreign soil by beating the likes of England and West Indies in their den, but the ODI World Cup in 2007 was a collective low.
Yuvi too felt undermined by the team's struggles but kept doing his job, and he was particularly impressive in India's tour of Pakistan, scoring two fifties and one century in the five-match ODI series.
In all Dravid's tenure as skipper wasn't the most memorable one, for both the team and the players as well.
Yuvraj Singh's Track Record Under MS Dhoni
Dhoni took over the reigns of the team in 2007 and made them world-beaters. Yuvraj played a key role in that, although his career's highest and lowest moments came under the captaincy of Dhoni.
At the T20 World Cup in 2007, Yuvraj made headlines after hitting six consecutive sixes against Stuart Broad and helped India secure the title in a thrilling finale versus arch-rivals Pakistan.
He kept on impressing and would go on to represent India 104 times under Dhoni, winning the 2011 ODI World Cup but after the highs, came the lows. In 2012, Yuvraj was diagnosed with germ cell cancer in 2012.
After undergoing the treatment and winning his battle with cancer, Yuvi returned to the national setup in 2012, only to be dropped again in early 2013. Barring a few brilliant displays against Australia later that year, he wasn't impressive at all and looked completely out of shape.
The final nail in the coffin came in the T20 World Cup in 2014, where his laboured innings of 11 runs off 21 balls against Sri Lanka in the final, cost India the title. He was subsequently snubbed from the ODI World Cup 2015 altogether.
After a stint in the wilderness, Yuvraj returned to international cricket in 2016 but struggled to leave a lasting impression. During the T20 World Cup in 2016, the middle-order batsman could score just 52 runs with an average of 13.
Yuvraj Singh Under Virat Kohli
Since the current Indian skipper assumed the captain's responsibilities, Yuvraj was able to play just 11 ODIs, before calling time on his career in June 2019. Lack of form and fitness cost Yuvi dearly towards the fag end of his career.
While the 38-year-old did admit that he wasn't supported much by either of Dhoni or Kohli, his struggles post the ODI World Cup was there for all to see.
Credit to Yuvraj though, for not giving up, and fighting back to return to the international fold time and again.
Follow us on facebook for more sports updates