Wasim Jaffer, former Indian opener and the domestic cricket giant recently announced his retirement from all formats of international and domestic cricket. Known as the Sachin Tendulkar of domestic cricket, Wasim Jaffer has had a long record-breaking domestic career.
Wasim Jaffer, a son of BEST bus driver, who went on to represent India and fulfil his and his father's dream has inspired multiple generations. Jaffer's rise to being an Indian opener and 10 Ranji Trophy wins has cemented his name as a hardworking and astonishing willow worker.
In this post we look at the veteran's illustrious cricket career.
International Career
Jaffar made his test debut in 2000 against South Africa at home. But the experience of Pollock and Donald happened to be too good for the debutant as he managed only 46 runs from his four innings.
Ho got his second chance against West Indies in 2002. Jaffar's respectable innings of 51 and 86 at Bridgetown and Antigua respectively earned him a place in the series against England. But despite a half century, he could not make the most of this series.
On account of his excellent domestic form, he was given a chance against England and finally proved himself with his maiden test ton in Nagpur. In 2006, Jaffar made his maiden test double century (212) against West Indies in Antigua.
Jaffer recalls the 202 against Pakistan in 2007, 212 in Antigua which helped save the test and the century in South Africa as an opener as some of his fondest test innings.
He played his last international test against South Africa. In 31 test matches, he scored 1944 runs with an average of 34.1.
He played only two ODI matches against South Africa in 2006.
Domestic Cricket Career
The domestic cricket legend played for Mumbai and later Vidarbha. Jaffer made his way into domestic cricket after an innings of 400 not out at 15 years of age.
Jaffer debuted in domestic cricket during the 1996-97 season for Mumbai under the captaincy of Sanjay Manjrekar.
His domestic cricket career was off to a flying start with an unbeaten triple century (314) in his second match for Mumbai. A start of what was going to be one of the most decorated domestic cricket careers.
Jaffer played for Mumbai till 2014-15 season. In June of 2016-17 season, he switched to Vidarbha till the end of his domestic career.
In his List-A career, he scored a total of 4,849 runs in 118 matches with 10 centuries. His List-A career average was 44 with a highest score of 178 not out.
In First-class cricket, Jaffer played 260 matches and piled on a mountain of 19,410 runs with 57 centuries. His highest score was 314 not out and he finished his first-class career with an astounding average of 50.67.
Jaffer also played a season of IPL for Royal Challengers Bangalore and was selected as an assistant coach for Kings XI Punjab for 2020.
Wasim Jaffer: A Record Book
After a glittering domestic career, Wasim Jaffer finally hung up his boots in March of 2020. Here's a look at Jaffer's milestones during his 24 years of quenchless appetite for runs.
Most appearances in a Ranji Trophy tournament – 156 matches.
Most runs in the history of Ranji Trophy tournament -12,038 runs.
Most centuries in Ranji Trophy tournament- 40.
Most half-centuries in Ranji Trophy tournament- 89.
Most catches in Ranji Trophy tournament- 200.
Only batsmen to score 1000 runs in a Ranji Season twice, in 2008-09 and 2018-19.
Highest run scorer in Duleep Trophy- 2545 runs.
Highest run scorer Irani Cup- 1294 runs.
Wasim Jaffer won Ranji Trophy with Mumbai for eight times and twice as their captain. The eight wins were followed by two more with Vidarbha in 2018 and 2019.
Jaffer recalls the Ranji Trophy win against Karnataka by six runs, when he was their captain as one of the best finals of his career.
Recurring Left Knee Injury And The Final Decision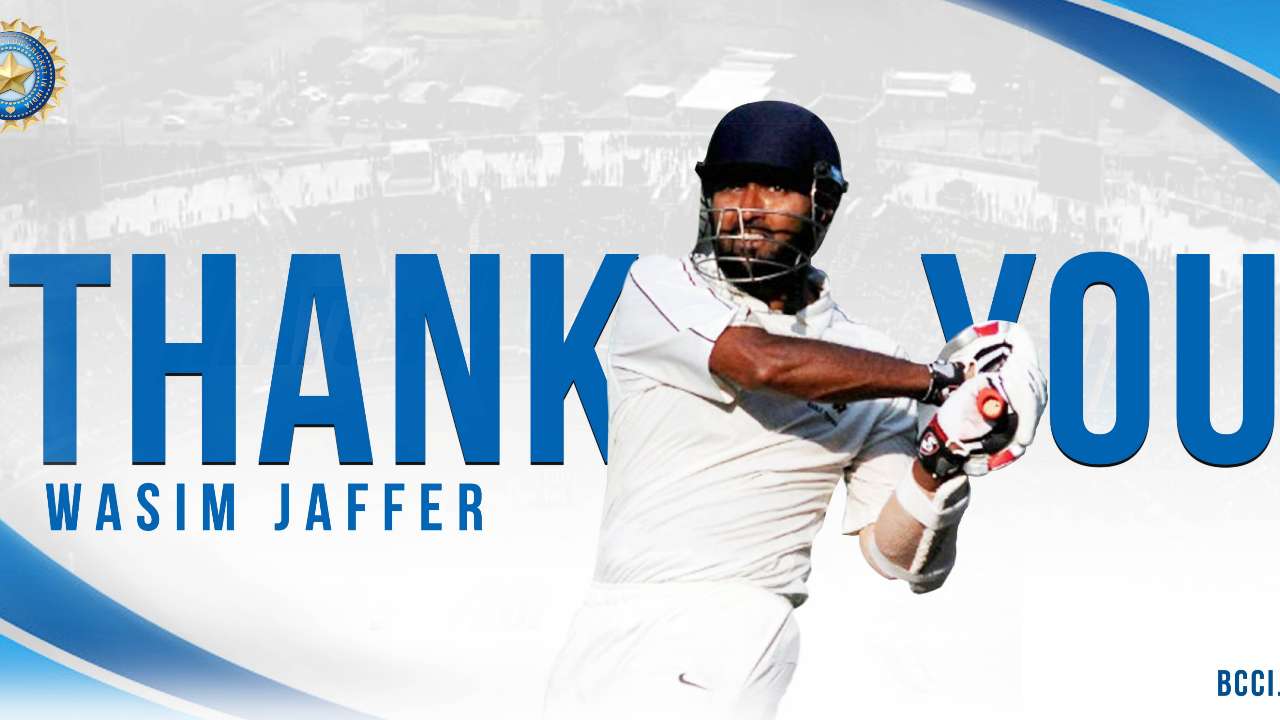 In the Ranji Trophy 2019-2020 season, Jaffer was playing for Vidarbha, which was aiming at a hat-trick of Ranji Trophy wins. But through out the season, the 42 years old soldier was being bothered by a recurring left knee injury.
Wasim Jaffer told ESPN cricinfo that the problem with his knee was getting too much by the mid-season and because of the pain, he did not enjoy a long time in the field. He realized that there was not much to play for and at this awakening, he decided it was time to move on.
In his official statement after retirement, Jaffer thanked his coaches, family, selectors, captains and colleagues. He expressed his gratitude towards the BCCI, Mumbai and Vidarbha Cricket Association for the opportunity to represent them.
Jaffer says that the retirement is only an end of his first innings and that he looks forward to open his second innings and give back to cricket.
Follow us on facebook sports news & updates