On a lovely summer afternoon at Centurion in December, 2010 the little master playing with a worn out bat defended, drove, punched, paddled and even lofted balls out of the park.

On the 197th ball of his innings, a tad full and wide from Dale Steyn, Sachin Tendulkar gently pushed the ball through the covers to bring up his 50th Test Century amidst applaud and cheers from all and sundry present at the ground.
That patched, with a tape both at the toe and near the handle, and damaged willow wielded by the Tendulkar that afternoon at Centurion was his favourite. He scored 14 hundred with it.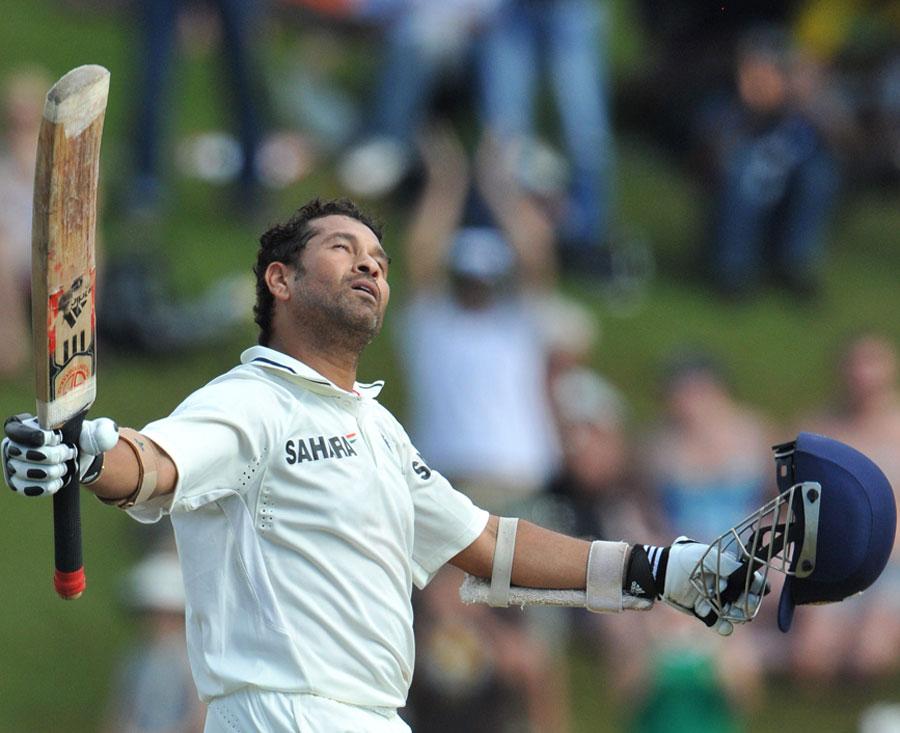 Recently in May 2020, the former Australian skipper Ricky Ponting tweeted a collage of photos of a worn out favourite bat with which he scored five international hundreds, including centuries (120 and 143*) in both the innings of his 100th Test at the SCG.
Favourite bats are not uncommon. Ask any batsmen/batswomen, including this writer, and more often than not you will hear them speak of their favourite bat. Let me now take you to a walk down my memory lane and share a tale of a bat, perhaps a favourite one.
In February 2010, South Africa were touring India for a 2 Tests and 3 ODIs. The tour had kicked off with a Test in Nagpur, where South Africa defeated India comprehensively by an innings and 6 runs. For the next Test beginning on February 14 the action moved to Kolkata, where this writer lived.
After a win in Nagpur, South Africa stood at a point where only a few touring sides had stood before. India had lost only two bilateral Test series since March 1987 — first to South Africa in 2000 and then second to Australia in 2004. All of sudden India's proud home record was in peril.
A Test call
India, whose bowlers had looked flat against Protea batting, were forced to make a few changes. VVS Laxman returned to the squad to bolster the middle-order. Suresh Raina, a limited-overs regular and a good player of spin, was included in the squad to counter left-arm spinner Paul Harris.
Paul Harris had taken 4 wickets at Nagpur and had troubled the India's Right-hand dominant batting line-up with his negative bowling in the second-innings.
Suresh Raina, who had made his ODI debut in July 2005, was fresh from a ODI hundred against the Sri Lankan in Dhaka just a month ago. His first hundred against a major cricketing nation and third over-all.
A day before the match, this writer, a club-cricketer in Kolkata back then, decided to watch the practice session after finishing off his regular practice.
While bowlers from various clubs across the city, as a norm, were called to bowl at nets, all the young batters could only watch the international players from the B.C. Roy club-house or various stands in the ground.
Post the practice session, as all the players made their way back to their team buses, this writer along with other spectators stood by the gate of the club house to watch the players closely.
One after the other, as players passed by the restless and enthusiastic crowd shouted and screeched each player's name, "Graeme Smith, a a a Graeme Smith, a Amla". If at all these players, responded to the myriad name calls, the crowd smiled, giggled and hooted in joy.
As Suresh Raina made his way to the team bus this writer shouted, "Raina" and to his surprise he turned around and smiled back. Seizing the opportunity this writer asked, "Apna bat do na?" (can you give your bat?) Raina paused before stepping into the bus and replied, "Ek hi hai." (This is the only one I have). He then moved into the bus.
This writer continued to follow the left-hander into the team bus. As he once again looked out towards this writer through the large glass windows in Volvo buses, this writer gestured pleading him to give the bat he was carrying. He gestured back with his fingers that it's the only he has. He then sat on the far side of the bus and couldn't be pursued more.
Soon, Sachin Tendulkar arrived followed by Sudhir Kumar Chowdhury, the flag-wielding and conch-blowing, fan of Indian team. As Tendulkar sat in a car placed ahead of the bus, the Indian Team bus left for the Taj Hotel.
Next day, as team India took the field, Suresh Raina didn't make it to the playing XI. However, India won the match by an innings and 57 runs. The series saving victory was made possible by a strong batting performance from Sehwag, Sachin, Laxman and Dhoni, all contributing with a century each, followed by excellent bowling performances from Zaheer Khan and Harbhajan Singh.
T20I Century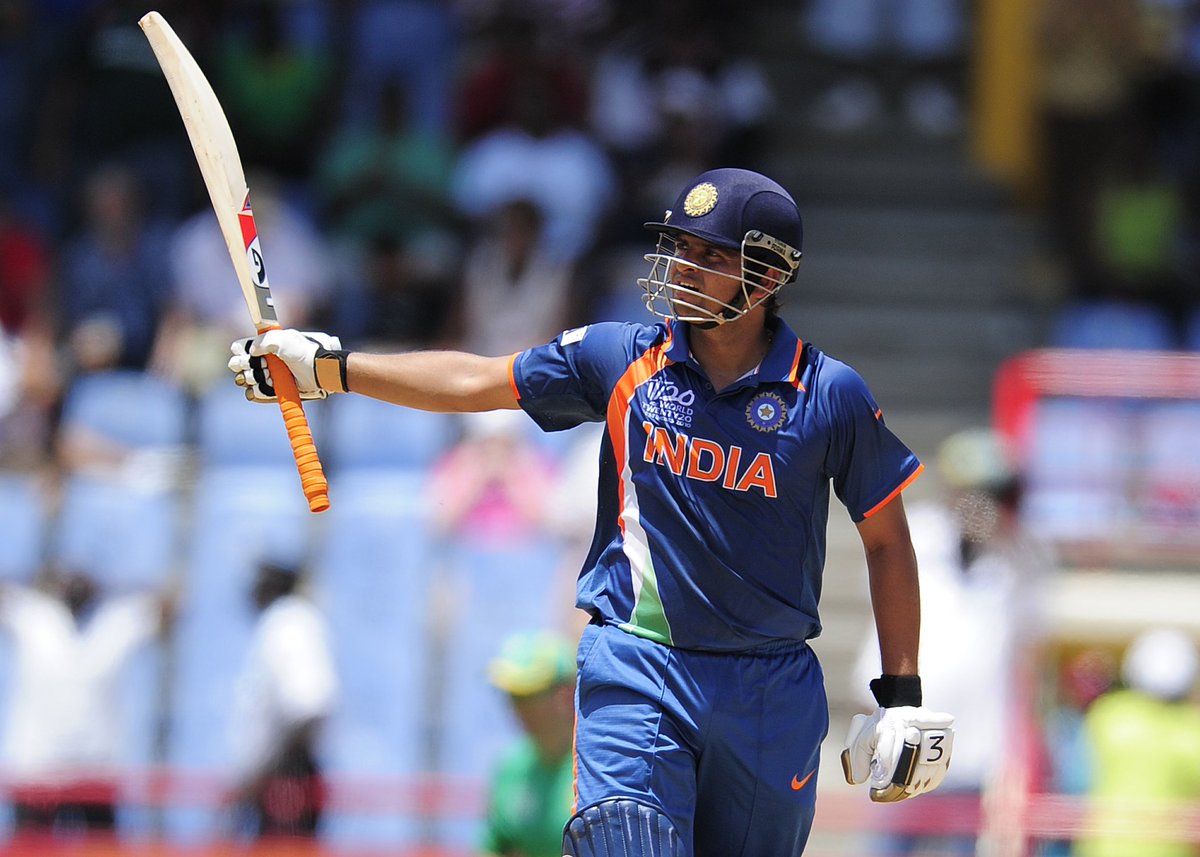 Within a few months, Suresh Raina scored a quickfire century off just 59 balls against South Africa in the 2010 T20 World Cup at St. Lucia. His innings of 101 off 60 balls was studded with nine four and five sixes. He overcame a initial period of mis-hits and short-pitched bowling, which had been found out to be chink in his armory, scoring 82 runs of the last 38 balls he faced.
From the time he came to the crease in the first over, Raina got a fair share of back-of-a-length deliveries. However, introduction of spin made things easier for the player and saw the left-handed shift gears with ease. He dispatched a short of a length into the stands to bring about his century. He became the first Indian and only the third player (back then) to score a T20Is century.
Test century on debut
However, the left-handed middle-order batsman did not have to wait too long to get a Test call. A couple of months later in July, Suresh Raina made his Test debut against Sri Lanka, the country against which he had earlier made his ODI debut back in 2005.
On ODI debut he was dismissed on duck by spin-wizard Muralitharan. But on his Test debut he not only played the spinners Tilakratne Dilshan, Suraj Randiv and Ajantha Mendis well enough, but also scored freely and fluently in a pressure situation while chasing a massive score of 642.
On 192nd ball of his innings, just around good length from Dhammika Prasad, Suresh Raina punched it on the up past the mid-off and raised both his arms in jubilation as he brought up his maiden Test century. He hugged his batting partner Sachin Tendulkar, with whom he stitched a 256 run partnership to help India post a formidable 707 in reply.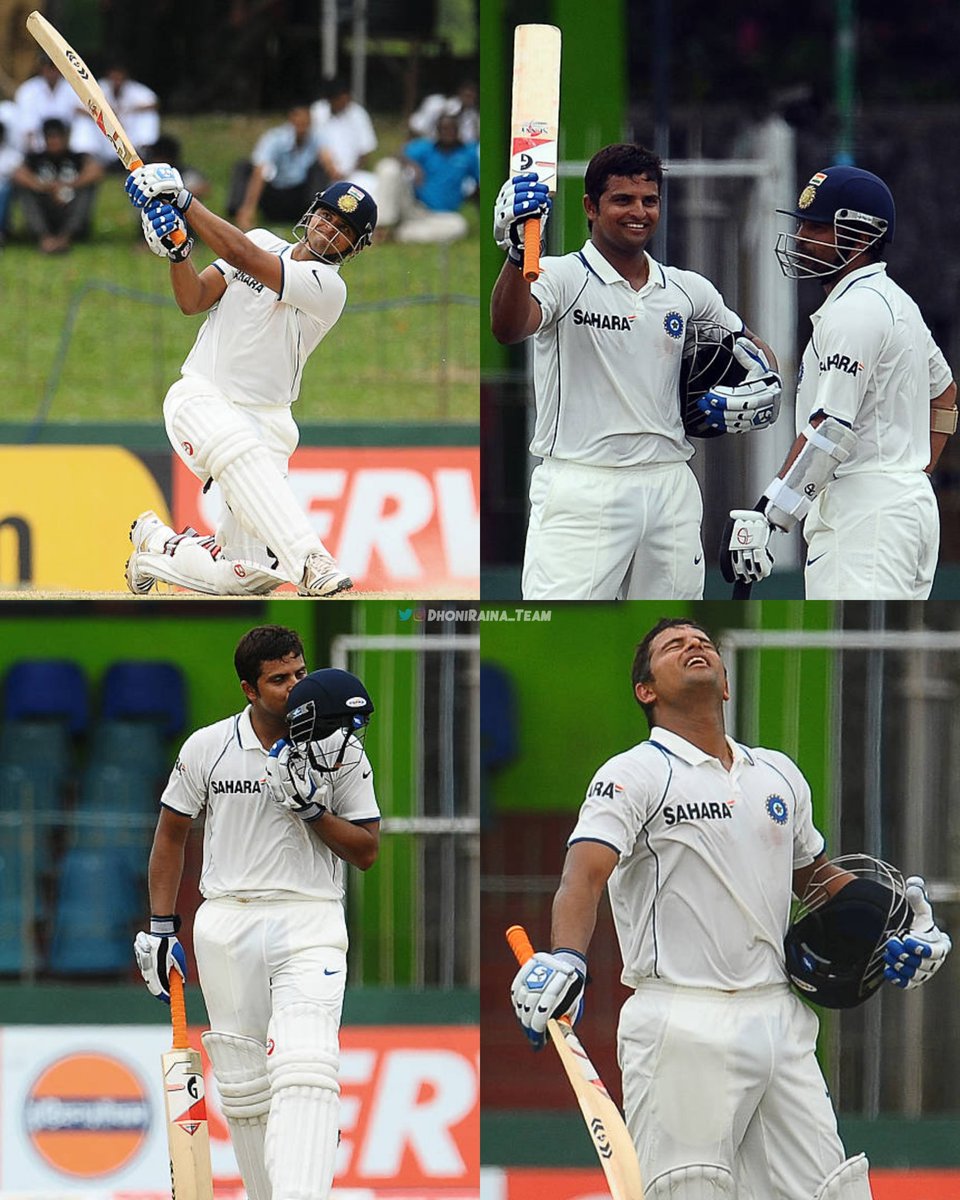 Suresh Raina scored 120 off 228 balls before being caught by Kumar Sangakkara of Ajantha Mendis at at short midwicket in the 141st over of the Indian innings. Back then, he joined a select list of 11 Indian Test cricketers, who had scored century on a Test debut, which now has 15. A few days later, he followed it up with 62 and 41* in the next match.
And all these runs were perhaps scored with the "only bat" he had. Who knows if it was the very bat with which he had scored the ODI century against Sri Lanka in Dhaka in January. Who knows if it was the very bat, which he had refused to give this writer at the Eden Gardens a few months earlier. Perhaps, it was the only bat with which he scored centuries in all three formats, a rare feat. In the retrospect, this writer is inclined to think that very bat could have probably been his favourite bat.
Follow us on facebook for more sports news & updates