If 1983 changed the dimension of cricket in India and sub-continent, 1987 welcomed it wholeheartedly. 1987 World Cup got new hosts. Thanks to Jagmohan Dalmiya, it was brought to the sub-continent. The tournament was organized by India and Pakistan and instead of Prudential Cup, it was called the Reliance Cup.
The one day cricket saw white clothing for the final time. All matches were played in the daytime. This was the first time the numbers of one day format was reduced to 50 overs per innings. With this overall began a new era in world cricket.
The Show Begins

Group A was shared among India, Australia, New Zealand, and Zimbabwe. India's first match of the World Cup was one of the thrilling encounters they lost by just one run to Australia. India and Australia both emerged as qualifiers of the group with the same points. But Australia ended at the second position due to inferior run rate. Otherwise, both ended with five wins from the six matches they played respectively.
For Group B it was Pakistan who came out as the dominating topper. Pakistan won five matches and lost one. England, the second on the table won four and lost two. West Indies and Sri Lanka were eliminated from the group stage. This elimination arguably began the end of West Indies goldern era of cricket.
The Journey To Final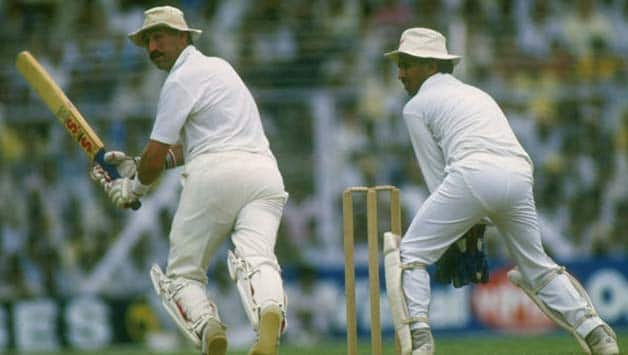 India and Pakistan were favorites in this World Cup. There were justified reasons. They had home conditions in favor and the star-studded teams. Moreover, India were the defending champions and the core of 1983 team was carried into this World Cup. Pakistan cricket team was a star-studded team with the likes of Imran Khan, Javed Miandad.  Both teams had one emerging young talent- Mohammad Azharuddin and Wasim Akram. So the expectations were and people were convinced of an India-Pakistan World Cup final.
The first semi-final was between Australia and Pakistan. Imran Khan with a magnificent spell  (3/17) tried to restrict the Australians but they were terrific. David Boon (65) led the innings with contributions from all the top order batters, to 267/8. Javed Miandad scored a 103-ball 70 and Imran Khan added 58 runs. But Australia managed to win it by 18 runs. Craig McDermott took five wickets.
The second knock out the match as between India and England. Graham Gooch's 115 off 136 balls set the momentum for England as they set a total of 254/6. Maninder Singh and Kapil Dev took three and two wickets each to stop England.  They young Azharuddin scored 64 runs and tried to lead the chase. But no much support from others in the middle order ended India's dream run. There was a collapse at the end and India lost by 35 runs.
The Finale
So another World Cup final with absolutely unexpected less fancied finalists this time! This was the first time that the West Indies were not featured. This was also the closest World Cup final till date. Moreover, this was the Ashes getting unfolded at the Eden Gardens, Kolkata in limited over version of cricket.
The arch rivals were all set to prove their superiority over each other in unfamiliar territory.  It was rather a challenge for both because of the conditions of sub-continent.
Australia won the important toss and elected to bat first. Batting first David Boon once again top scored with 75.  Apart from mid-range scores from the middle order batters like Dean Jones, Allan Border it was Mike Veletta who did justify to the efforts put by Boom. He scored a brilliant 45 off 31 balls to give Australia the final push. Australi's final score was 253/5. It was a special knock from Mike because he was appointed as a specialist batsman playing at number six.


England lost their opener Tim Robinson went on the very first ball. But Graham Gooch tried to recover with Bill Athey. Once Gooch was also gone after scoring 45 runs, it was Mike Gatting who started developing the innings with Athey. Both looked set and comfortable. It was almost a sure win for England at that time. But then, the Aussie skipper Border himself came in to deliver his dose of left-arm spin. It was mistimed by Gatting who attempted for a reverse sweep and caught by the keeper. Gatting was gone for 41 runs. England were on 170/4. Post that even Athey, the top scorer for England with 58 runs was gone soon. Since then England could never recover. England's last three wickets of the innings fell for just 17 runs and they were finally done with 246/8. Border and Steve Waugh took two wickets each.
Cricket fans hardly talk about this particular World Cup. But this final hinted about the domination Australians were about to bring in the cricket world. It actually was a glimpse of what was in store for cricket's global future.